Events
Dreams of Gothic and Renaissance
June 25, 2002 - September 29, 2002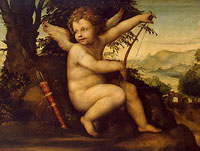 The exhibition presents Siennese school of the 14th - first half of the 16th centuries in the Hermitage collection (hall No. 244).
The opening piece is Calvary which shows the starting point of the 14th century Siennese school. It is believed to be a work of a disciple of Duccio di Buoninsegni (fl. 1278-1318/19).
The masterpiece of Simone Martini (ca. 1284-1344), Madonna from Annunciation, testifies to his predilection for Gothic rather than Byzantine style.
Pietro Lorenzetti (fl. 1306-1348) was the most Florentine master in Siena. The central piece of his triptych Madonna and Child, though surviving in a poor condition, impresses by the purity and harmony of its color, sculptural clarity of its forms and fineness of ornamentation worth a jeweler's art.
Andrea di Vanni, Bartolo di Fredi, Paolo di Giovanni Fei and Taddeo di Bartolo of the turn of the 14th-15th centuries ushered in the new epoch.
One of the best things of Bernardino Fungai (1460-1516) is the cassone board Magnanimity of Scipio Africanus. Following in the tradition of wedding case decoration, the master combined three scenes and turned an episode of Titus Livius' "History of Rome" into a chivalrous romance.
Giovanni Antonio Bazzi, nicknamed Sodoma (1477-1549), belongs to the cohort of painters of the late 15th - early 16th centuries. Sodoma's influence on the art of Leonardo da Vinci is visible in the Hermitage Cupid in Landscape.
The last major Siennese painter was Domenico Beccafumi (1485-1551) during whose lifetime mannerism was gestating within the art of Renaissance. Among Beccafumi's best creations of the second decade of the 16th century is the wonderful retablo Betrothal of St. Catherine of Alexandria.
Event source: hermitage.ru

Print this news
---
Events archive for 25 June' 2002.
Events archive for June' 2002.
Events archive for 2002 year.