Warning: current() expects parameter 1 to be array, null given in /home/webs/city.air.spb.ru/system/advert.robo on line 24
News at PetersburgCity


City news

Business news

Culture news
---
Hot topics


Visa Support

"Stars of the White


Nights" Festival

"Day of the City"


program
---
Popular search words this week

---

Events
VI Petersburg sailing week has started from coast of Neva.
August 22, 2002 - August 25, 2002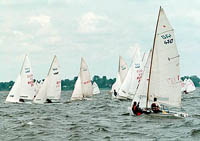 VI Petersburg sailing week has started. 65 yachts and more than 300 sportsmen from Northern capital and some other cities take part in a regatta which was founded by the sailing union of city on Neva in 1898. From five stages two were held with storm weather in the Neva bay. Now seafarers compete in 150-mile race. They should overcome the planned route in the Vyborg gulf, to make a short stop in ancient Vyborg, and then to take a direction to Saint Petersburg and on Sunday to finish in its water area.
Event source: regnum.ru

Print this news
---
Events archive for 22 August' 2002.
Events archive for August' 2002.
Events archive for 2002 year.