Events
Germans mark siege anniversary
January 21, 2004 - February 17, 2004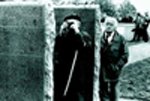 A photographic exhibition in commemoration of the 60th anniversary of the lifting of the siege of Leningrad during World War II will be held at the village of Sologubovka starting from January 21 till February 17.
The Sologubovka cemetery, holding 22,000 German dead from World War II and slated to take 80,000, was opened in September 2000, providing a final resting place for German soldiers. Some 70 km southeast of St. Petersburg on 12 acres on the fringes of the village, Sologubovka is the biggest German war cemetery anywhere, including in Germany itself. Its opening marked the climax to a German quest to locate and rebury the fallen soldiers of the Third Reich all across Russia and Eastern Europe in the nine years since the collapse of communism.
The exhibition "Sologubovka. Russia", organised by Geothe Institut Inter Nationes in Saint-Petersburg together with the Museum of the heroic defenders of Leningrad will feature more than 100 black-and-white photographs by two leading German photographers, Susanne Schleyer und Michael J. Stephan, archive photographs from the war, it will also be complimented by the multimedia installation. The exhibition will be held in the Museum of the heroic defenders of Leningrad that is situated on Victory Square.
Event source: www.goethe.de/oe/pet/

Print this news
---
Events archive for 21 January' 2004.
Events archive for January' 2004.
Events archive for 2004 year.