Events
Master of photographic art exposed
June 1, 2004 - July 30, 2004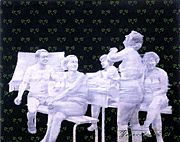 The latest a display in the Marble Palace of work by Eduard Gorokhovsky, an artist well-known as a pioneer of photo-based art in Soviet Union who now lives mainly in Germany.
An architect by education, Goro-khovsky abandoned his career to sail out bravely on the sea of fine art, worked for twenty years in Siberia mainly as a graphic artist, and then came to dock with a circle of Moscow conceptualists at the beginning of 1970s. Gorokhovsky shared with his new associates - Ilya Kabakov, Victor Pivovarov, Eric Bulatov and others - not only a \"non-conformist\" way of earning a living, book illustration, but also a conscientious attitude toward artistic and social strategies.
The title of the exhibition - \"The Limits of the Rectangle: My Unlimited Space\" - excellently reflects his specific artistic modus operandi.
He uses old photos as a basis for his painting works and manipulates borrowed images to investigate the relationship between photography and painting.
Gorokhovsky disembodies photo-images, makes them transparent, applies one image to another, as though all images, whenever visible float freely in a weightless and unlimited optical space.
A previous exhibition in the Marble Palace, which represented the work of another Russian artist also practicing photo-based art, Boris Zaborov, gives cause for comparison. They are quite different.
Zaborov deals with the perishability of old photographs, saving them from decay in his monotonous painting.
On the other hand, Gorokhovsky deals with the imperishability of photo-images: paper may burn down or moulder away, but the image will be suspended somewhere in the optical universe.
His work shows that the \"Other Art\" movement is able not only to criticize society and to disclose mechanisms of ideological violence. It also can open a door to other space, where it is possible to run away quite in the spirit of romantic escapism. Such fresh and cheerful optical winds breeze through Gorokhovsky\'s space that even images of tyrants lose their threatening weight.
Probably the best metaphor for this cosmic weightlessness is white noise - a \"collage\" of sounds mixed and imposed upon one another, floating in and out of consciousness.
Eduard Gorokhovsky: \"The Limits of the Rectangle: My Unlimited Space\" runs through July 30 in the Marble Palace.
Links: www.rusmuseum.ru
Event source: www.times.spb.ru

Print this news
---
Events archive for 01 June' 2004.
Events archive for June' 2004.
Events archive for 2004 year.