Events
Splendid isolation
March 2, 2006 - May 31, 2006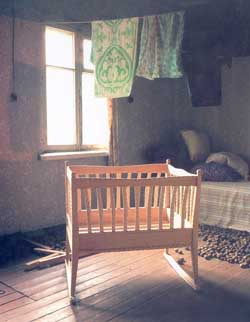 Khoroshilova, who was born in Moscow in 1978, belongs to an emerging generation of Russian artists and can justifiably be considered a discovery among them.
The photographer studied at the Photographic Department of Duisburg-Essen University in Germany, allowing her to follow European trends while taking her first steps on the international art scene comfortably and confidently.
Khoroshilova's exhibition, at the Marble Palace of the Russian Museum, represents four different series of photographs that together form the artist's portfolio to the present day.
It was Khoroshilova's earliest and largest series, "Islanders," that first brought her success and recognition in the art world.
Taken as metaphor, the "islanders" in her photographs are the pupils of the Moscow State Academy of Choreography, youngsters living in the children's home of the Savino-Storozhevsky Monastery (in Zvenigorod, 60 kilometers outside Moscow) and the inhabitants of Women's Shelter No. 6 in Essen, Germany, among others.
These subjects have all been uprooted — freely or violently — from the usual social environment and the natural order of things.
At first sight, Khoroshilova's main genre is portraiture. However, she makes only full-length portraits, where often a great proportion of space in regard to human figure plays a crucial role in the composition of the picture.
These are not portraits in a traditional sense since the settings are as important as the subjects. The photographer seems to be looking for is a sort of correspondence between them. The viewer's evaluation of each subject benefits from each setting: their human scale and states of mind.
In photographs of the pupils of the Moscow State Academy of Choreography, the beauty of their fragile ballet-trained bodies, their dignity and the self-confidence of their poses, is purified and amplified in relation to the gigantic flowers, decrepit furniture, masses of air and empty walls.
In photographs of the Savino-Storozhevsky children, the emptiness and order of the rooms with their strict quantity of toys, intensifies the sensation of transition: the small inhabitants are aware that they are only guests.
A boy's hesitant pose in front of a white wall with the thin crack in it is one of the good examples of how Khoroshilova uses artistic means to effortlessly produce such disturbing feelings.
Khoroshilova's next two series "Bezhin Lug" (Bezhin Meadow) and "Baltiysk," although separate, in fact, are based on the same island metaphor.
"Bezhin Lug," which alludes to Ivan Turgenev's novel of the same name, portray's Russia's deserted countryside, whereas "Baltiysk" uses the residents of a closed military zone located in Kaliningrad as its subject.
As with "Islanders," Khoroshilova's countryside landscapes and open-air portraits are full of significant pauses no matter whether she is dealing with people or objects.
In Khoroshilova's latest, and absolutely bewitching work — "9.5 % plus" — features portraits of military women: Capitan N., Sergeant K. Major S., and so on. The photographer smartly captures the often touching gulf between the women and their professions.
Anastasia Khoroshilova at the Marble Palace.www.rusmuseum.ru, www.khoroshilova.net
By Andrei Vorobei
Special to St. Petersburg Times
Event source: times.spb.ru

Print this news
---
Events archive for 02 March' 2006.
Events archive for March' 2006.
Events archive for 2006 year.