Museums
Museum of the Political History of Russia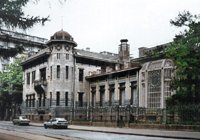 On October 9, 1919 the Museum of Revolution was founded. At first it was located in the Zimniy (Winter) Palace, in 1957 moved to M.F. Kshessinskaya's and Brandt's mansions joined by a newly erected aisle.
The museum exhibits interesting collections of banners, arms, porcelain with revolutionary symbols and other items connected with the history of Russian revolution and revolutionary leaders.
After 1992 the museum became much more pluralistic, and now a lot of interesting exhibitions are arranged.
| | |
| --- | --- |
| Address: | 2/4, Kuibysheva Street |
| Subway (Metro): | Gorkovskaya (Browse map) |
| Tel: | + 7 (812) 233 7052 |

Print version
---
Back to All Museums list