Museums
Museum of the Russian Academy of Fine Arts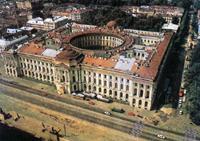 The Russian Academy of Fine Arts was founded in 1757. Its building was built according to the design by its first director I.I. Shuvalov. The museum was established at the same time, thus being the oldest art museum in Russia.
Its collection comprises the works of Russian artists beginning from the XVIII century, models of Ancient Roman architectural ensembles and palaces and cathedrals of St. Petersburg.
The museum is housed in the "Circulum", the central circular aisle of the building designed by J.B.M. Vallin-de La Mothe and A.F. Kokorinov. The main facade has three four-pillar porticos. In front of it in 1827 - 1839 a granite wharf was built with figures of two unique sphinxes dating back to XV century BC).
| | |
| --- | --- |
| Address: | 17, University Embankment |
| Subway (Metro): | Vasileostrovskaya (Browse map) |
| Tel: | + 7 (812) 323 6496; 323 3578 |

Print version
---
Back to All Museums list