Printed from: http://petersburgcity.com/news/business/2001/07/25/news584/
Business news, 25.07.2001 12:58
City development was discussed during 'Petersburg XXI' debates.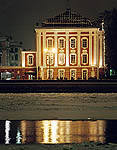 Different programmes of city development and reconstruction were prepared by 'Petersburg 2015' club.

'Amsterdam plan' suggests city development as the key center between Russia and Western countries.

'Russian Venice' stipulates for Petersburg development as a unique tourist center.

'Russian Boston' supposes city growth as the educational city of Russia.

This debates were organized by "North-West" Media Association, club 'Petersburg 2015' and The Center for Strategic Development "North-West".