Business news
Guinness Bets on Russia Beer Boom
01.21.2005 11:53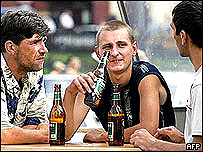 Heineken has signed an agreement with Guinness parent company Diageo to make and distribute the stout in Russia.
The deal aims to tap into Russia's growing thirst for beer, where many still see it as a harmless soft drink.
Russian beer consumption, previously a poor second to spirits, has doubled in the past five years.
Battle of the beers
The deal is not an unusual one for Diageo: Guinness is already brewed in 50 countries, and sold in another 100.
But the company's main overseas focus so far has been Africa. Nigeria is the world's third-biggest Guinness market, after the UK and Ireland.
Beer today means vodka tomorrow, politicians warn
And although stouts have their place on the market, the Russian taste runs more towards lager-style light beers.
The dominant player on the market is Baltic Beverages Holding - owned by Denmark's Carlsberg and Britain's Scottish & Newcastle - whose Baltika beer is ubiquitous in pavement kiosks.
Overall, BBH now has one third of the Russian market, and Baltika is already Europe's number two beer brand.
Heineken, which owns the smaller Bochkarev brand, has set its sights on the Russian market, a shift driven by the relative stagnation of beer demand in Western Europe.
Down with beer
Not everyone is happy with the dynamism of the Russian market.
The Russian Government recently forced brewers to tone down their aggressive advertising, fearing that beer's appeal to the young could stimulate alcoholism.
Earlier this month, President Vladimir Putin vetoed a parliamentary move to clamp down on drinking beer in public, arguing that the law needed clarification.
Almost one third of the beer bought in Russia is consumed immediately.
News source: www.news.bbc.co.uk


Print this news
---
Business news archive for 21 January' 2005.
Business news archive for January' 2005.
Business news archive for 2005 year.