Business news
Petrosoyuz to Be Bought Out Dismantled
04.28.2005 14:17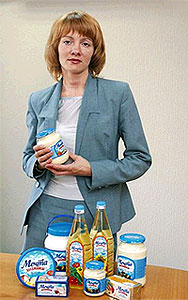 Petrosoyuz Industrial Group, St. Petersburg, launched foods production in 1994. It unites seven enterprises located in St. Petersburg, the Leningrad Region, the Ivanovo Region, the Moscow Region and Bukhara (Uzbekistan). The Group produces mayonnaise, spread butter and ketchup. Most popular trademarks are Moya Semiya (Russian for My Family), Mechta Khozyaiki (Housewife's Dream), Derevenskoe Myagkoe (Village Spread), Picador, Khan. The company covers around 40 percent of spread butter market, 15 percent of ketchup market and 10 percent of mayonnaise market in Russia. The analysts estimate its annual turnover at around $200 million.
FAS senior executive Teimuraz Kharitonashvili told Kommersant the Service had sanctioned Heinz to buy out at least majority stakes in eleven companies of Petrosoyuz, most of them are the asset management companies. Moreover, Heinz is acquiring Ivanovsky margarine factory, mayonnaise and butter production arm of Petrosoyuz. But Petrosoyuz keeps the ketchup and dressing enterprises (Petroproduct, Lytkarinsky Food Factory), generally regarded most attractive to Heinz.
Both in Petrosoyuz and in Heinz, they declined to disclose the reasons of Heinz interest in non-core assets.
Most experts speculate the U.S. company will seize all business of Petrosoyuz and that current sale of some assets could be viewed as certain safety net for today's owners of Russia's holding.
"In all appearance, the deal will be drawn out in time and go through at least two stages. At first, the Americans get assets not so attractive to them to guarantee to the buyer that the deal will proceed. Then, they will slowly buy out the remainder," forecasted Uralsib analyst Marat Ibragimov. "It is the first step towards purchase of the whole holding," pointed out Vyacheslav Kitaichik, top executive at Rusagro-Maslo.
How much Heinz will have to pay to buy out one of Russia's top players on the fat market is yet unclear. Petrosoyuz Managing Director Dmitry Filatov told Kommersant last year that the worth of his business is no less than the total of annual turnover. Petrosoyuz costs from $100 million to $150 million, though Heinz may pay more to enter the market, said Baltimor CEO Alexey Antipov.
FAS says the deal could be finalized by this year's end. Though Heinz will have to apply to the Service again to get sanction for other assets of Petrosoyuz.
News source: www.kommersant.com


Print this news
---
Business news archive for 28 April' 2005.
Business news archive for April' 2005.
Business news archive for 2005 year.