Business news
VF Hopes to Spark Jeans-Mania
06.10.2005 15:58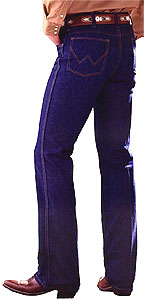 VF Corporation, a leading international jeans producer, has announced ambitious expansion plans for the city. Dmitry Yeremeyev, the company's regional director for Russia and CIS, said VF is set almost to triple the number of its shopping outlets in St. Petersburg from 7 to 20 by the end of 2006.
VF owns over 40 brands worldwide, including Wrangler, Lee, Nautica, JanSport, and Eastpak. The corporation, which has a daily production volume that requires 20 million square meters of denim, opened its Russia and CIS office in Moscow in 2003.
Between 40 million and 60 million pairs of jeans are sold in Russia every year, with St. Petersburg holding 10 percent of the market. In the premium segment, VF's sales volume in St. Petersburg is half that of Moscow, Yeremeyev said.
According to recent results from KOMKON, a leading St. Petersburg market research agency, 18.1 percent of the city's population spend money on women's jeans or other denim clothes for women, while a further 14.1 percent buy men's denim.
In St. Petersburg, Lee tops the list of the most familiar jeans brands, mentioned by 37.8 percent of those surveyed. Lee is followed by Montana (36.1 percent), Motor (35.8 percent), Levi's (34.2 percent) and Gloria Jeans (33.4 percent). Wrangler ranks 6th in the rating, with 30.8 percent, according to KOMKON.
Lee and Wrangler also figure within the top five most purchased brands. Seven percent of St. Petersburgers buy Motor jeans, which holds the leading position. Colin's comes second with 6.3 percent, followed by Lee and Gloria Jeans (5.2 percent each). Wrangler holds 5th place, with 4.5 percent. However, when asked to name their competitors, Alberto Calo, VF's vice-president on business development, pointed to counterfeit jeans. "Nine out of ten pairs of jeans sold locally are fake," Calo said.
Authentic Lee and Wrangler jeans are sold in seven local shops, at 80 euro per pair on average. Fake versions are available from local markets or kiosks at 30 percent of that price. VF doesn't have its own shops in Russia and operates through several local stores such as Amerikanskaya Klassika (American Classic) on Nevsky Prospekt.
In Russia, all VF brands are sold at the same prices as in other European cities, and locals can expect no discounts, Calo said. "When I visit less developed countries, I am always asked to sell at lower prices. But I always reply that it doesn't cost me less to produce the jeans for you," he added.
Yeremeyev said the company expects to increase sales through aggressive marketing, which will aim to raise awareness of brand value versus counterfeit quality. In addition, VF will try to increase the number of its distributing outlets.
"St. Petersburg has made a big step towards European-style purchase patterns: the numbers of people shopping at markets has dropped from 17 percent in 1998 to 14 percent last year, while the numbers of customers choosing self-service shops has rocketed from 3 percent to 30 percent in the same period," Yeremeyev said.
VF's positive market prospects are not completely supported by some other market players. SELA, a leading St. Petersburg-based clothes chain that has a popular jeans collection, said it has not noticed a substantial increase in the sales of denim.
"Young people like denim, so every season we have a denim segment in our collection, following fashion trends," said Filipp Kapchits, general director of SELA's St. Petersburg branch. "That segment can be increased if denim is in fashion in a certain season, but we are not talking about a strategic decision to strongly develop this section."
News source: www.sptimes.ru


Print this news
---
Business news archive for 10 June' 2005.
Business news archive for June' 2005.
Business news archive for 2005 year.