Business news
Putin to Push Pacific Influence
11.18.2005 14:10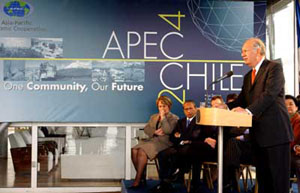 President Vladimir Putin's trip to the Asia-Pacific Economic Cooperation forum this week will give him an opportunity to talk with U.S. President George W. Bush and pursue efforts to expand economic ties with booming Pacific Rim nations.
Putin's meeting with Bush on the sidelines of the 21-nation APEC meeting in Busan, South Korea — their fifth this year — is expected to focus on tense issues including Syria and the nuclear programs of Iran and North Korea.
Moscow has resisted the U.S. push for international sanctions against Syria, a longtime ally of Moscow, over Syria's alleged involvement in the killing of former Lebanese Prime Minister Rafik Hariri in February.
It also has opposed Washington's efforts to refer the Iranian nuclear program to the UN Security Council for possible sanctions, saying the issue can be handled by the world body's nuclear watchdog agency without imposing sanctions. The United States contends Iran intends to use its nuclear program to build atomic weapons.
Global policy aside, Russia is likely to use the APEC summit to seek greater access to rapidly growing regional markets. Russia accounts for less than 1 percent of APEC trade and would like to win a greater share.
"Unlike the Soviet Union's predominant role in the region as a military power, Russia is now rethinking itself as an energy power," said Alexei Voskresensky, an expert on the region at the Moscow State Institute of International Relations.
For several years, China and Japan have lobbied for alternative routes for a pipeline from eastern Siberia's oil fields to Pacific Rim nations. The Russian Cabinet last year endorsed the Japanese-backed route to the Pacific coast, but then decided that the destination for its first stage would be near the Chinese border.
Voskresensky said that China's swift economic development and growing demands for energy would likely trigger further rivalry over Russian energy resources. "Geopolitical competition for Russia's resources isn't over yet. It's likely to go into a new round," he said.
Moscow also sees the development of economic ties with APEC as a tool that might help galvanize the anemic economy of the sparsely populated regions in Siberia and the Far East, which suffer from decrepit infrastructure and power shortages.
"Pacific markets offer a new opportunity for Russia's high-tech industries," Voskresensky said.
But other observers warn that Russia has little to offer to quickly growing Asian markets beyond energy resources, saying that struggling industries in Russia's Far East are unable to deliver competitive products.
"Russia lacks an economic basis for a more active involvement in the regional economic cooperation," said Stanislav Bylinyak, an APEC expert with the Russian Academy of Sciences' Institute for Oriental Studies.
Despite the government's efforts to diversify the economy, Russia's exports still rely on raw materials and arms. China is the No. 1 customer for Russia's weapons industries, and Moscow also has sold weapons to Malaysia and Indonesia.
Foreign Minister Sergei Lavrov said this week that Moscow hoped to win the forum's approval of Russia's bid to join the World Trade Organization. Russia and Vietnam are the only APEC nations not in the WTO.
Of all APEC members, China has evolved as Russia's key political ally and economic partner. After the 1991 collapse of the Soviet Union, the former Cold War rivals have developed what they called a "strategic partnership" to counter the perceived U.S. domination in global affairs.
News source: sptimes.ru


Print this news
---
Business news archive for 18 November' 2005.
Business news archive for November' 2005.
Business news archive for 2005 year.