Business news
Daimler puts Russian car plan on ice
12.16.2005 12:04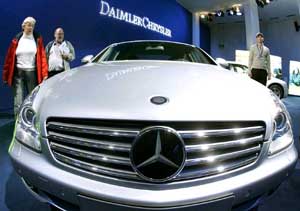 DaimlerChrysler said on Wednesday that it has put plans to assemble Mercedes-Benz cars in Russia on hold for the foreseeable future.
The world's fifth-largest automaker said that assembling cars in Russia was not competitive due to tax and customs rules, adding that it was still in talks with the government in Moscow but holding out scant hope that they will lead anywhere.
"Local assembly is not economically feasible given the current conditions," corporate development chief, Ruediger Grube, said in a statement.
The Die Welt newspaper had earlier quoted a senior company official as saying: "The project is dead. DaimlerChrysler will not assemble any cars in Russia."
That meant Daimler had shelved plans to invest at least 80 million euros to open a plant near St. Petersburg with annual capacity of 25,000 to 30,000 cars, the paper reported. A DaimlerChrysler spokesman would not confirm these numbers.
Visiting Germany in September, Russia's President Vladimir Putin said carmakers Volkswagen and DaimlerChrysler were expected to set up assembly plants in Russia soon.
VW reiterated on Wednesday that it was interested in entering the Russian market but that it had not yet made a final decision.
Demand for modern cars in Russia is swelling thanks to strong economic growth, which has put new cars within the reach of a burgeoning middle class. Its overall auto market grew to nearly 1.4 million vehicles last year from 1.21 million in 2003.
Analysts forecast that new car sales in Russia could surpass 1.9 million units by 2008.
Japan's Toyota Motor Corp in April became the first major carmaker to be lured by liberalised Russian auto industry rules. It will invest 15 billion yen in a new plant slated to produce about 20,000 Camry sedans a year and from late 2007.
The move followed Russia's decision in March to eliminate 12-percent import duties on car components.
Under the new rules, carmakers have to set up a full-cycle production in Russia, including welding, painting and assembly within 30 months for a new plant, or within 18 months for an existing one and produce no fewer than 25,000 cars annually.
They must also reduce the volume of imported components by 10 percent within 24 months of setting up a full-cycle production, by another 10 percent within 42 months and by another 10 percent within 54 months.
U.S. auto giant Ford Motor Co and France's Renault already run plants in Russia.
News source: today.reuters.co.uk


Print this news
---
Business news archive for 16 December' 2005.
Business news archive for December' 2005.
Business news archive for 2005 year.