Business news
City Entrepreneur Digs Deep
06.15.2006 14:34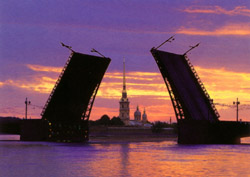 By Yelena Andreyeva
Special to St. Petersburg Times
St. Petersburg soil will soon be on sale to the public. A new line of small and colorful souvenirs — red and blue velvet bags — are full of soil from both St. Petersburg and the USSR and decorated respectively with the emblem of the city's open bridges and the Soviet crest.
They are aimed not only at foreign tourists, however, but also at Russians wishing to identify themselves with the city and country, said Denis Markov, project manager and head of St. Petersburg Business Club of Young Entrepreneurs at a press conference on June 6.
According to him, the new souvenirs have their roots in tradition — international soldiers used to keep a handful of their motherland's soil like an amulet to protect them from malignant demons and foes. "We wanted to start an unusual project but also decided to make use of an age-old experience," he said.
"St. Petersburg's soil is an invaluable thing for many people who no longer live here. For them it is not just soil but the memories and emotions they felt, and even city energy packed into one little bag."
Markov said that the soil is taken only from places "sacred" to St. Petersburg's citizens — places touched by Russian emperors and historic figures. During the process of production the soil is disinfected, exposed to drying and burning.
The project "Soil of St. Petersburg" follows on from another line of souvenirs called "Air of St. Petersburg" that was launched by the entrepreneur Sergei Luchnikov during the 300th anniversary of St. Petersburg in 2003.
The idea to sell air occurred to Luchnikov several years ago when he was given a souvenir, "Air of Paris." He thought that St. Petersburg's air could also cut it as a good souvenir. The unique bouquet of city air is safely bottled up and taken from well-known city sites.
In Luchnikov's opinion, the value of such gifts depends on peoples' imagination — those who understand its symbolic nature are not just buying an empty bottle.
"They know that they can use it to share the good emotions and feelings they experienced while in the city with their relatives and friends," he said.
Luchnikov has been granted a patent to sell souvenir air and soil all over Russia and plans to expand his business to other cities.
"The products seem to be extremely popular and we want to launch ourselves in Moscow, to sell the capital's soil," said Markov.
At a cost of 300 to 350 rubles for a bag of soil and 200 to 380 rubles for a bottle of air, the souvenirs are aiming to occupy the niche of exclusive "representative" gifts. They will probably be among the presents given to the VIP guests at the G8 summit held in St. Petersburg in July. "More than 270 bottles of St. Petersburg air have recently been bought by the president Vladimir Putin's administration," said Luchnikov.
News source: times.spb.ru


Print this news
---
Business news archive for 15 June' 2006.
Business news archive for June' 2006.
Business news archive for 2006 year.