Business news
City, Oblast Compete In Industrial Growth
07.21.2006 16:43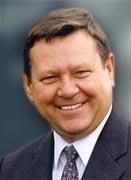 By Yekaterina Dranitsyna
Staff Writer
Leningrad Oblast governor Valery Serdyukov reported a solid increase in industrial production in the first half of 2006.
"The growth rate of 30.5 percent is rather high, even compared to the steady increases in production during the last six years," he said at a briefing Thursday.
Summarizing economic figures for the first six months of 2006, Serdyukov said that manufacturing was the most dynamic industry with a growth rate of 35.3 percent.
The governor indicated wide modernization of production facilities and active construction of new plants as the main sources of the current industrial growth.
During the first five months of this year, investment in fixed capital totaled 32.5 billion rubles — a 50 percent increase on the same period last year, he said.
"By the end of the year, we expect investment to be between 3 billion rubles and 3.5 billion rubles," Serdyukov said.
Industrial growth is expected to be between 20 percent and 25 percent by the end of 2006, Serdyukov said.
Serdyukov listed the largest projects due for completion this year.
By August the first section of the Baltiisky Ferry Line will be completed, connecting Leningrad Oblast with German ports through car, railway and ferry transportation.
200 million euros will be spent on construction of logistics centers during the next two years. IKEA is to complete two shopping and entertainment centers with a total cost of $500 million.
$12 million will be invested to complete the second and the third sections of the oil refining plant at the port of Vysotsk.
"We are also providing all conditions necessary for the North-European Gas Pipeline project. At the moment, we are working out the design of a gas processing plant, which is to be built near the pipeline — 260 hectares of land have already been allocated for this purpose," Serdyukov said.
The St. Petersburg government also reported industrial growth in the first half of the year, though it was much more moderate.
In a statement released Wednesday, the committee for economic development, industrial policy and trade announced industrial growth of 6.1 percent, which "exceeds the Russian average (4.4 percent)."
Manufacturing grew by 6.9 percent as opposed to 4.5 percent in Russia in general.
According to experts, however, both regions have their advantages.
"Obviously, St. Petersburg significantly outpaces the Oblast in terms of the total volume of produced goods and services in money terms. At the same time, production development dynamics are just as important. In this regard, Leningrad Oblast's performance is more attractive than that of St. Petersburg," experts from Energy Consulting stated in a report on the local investment climate.
The highest industrial growth in St. Petersburg was reported in metallurgy (31.4 percent), electronics and optics (19.5 percent), oil processing (13.5 percent), chemicals (11.8 percent) and food and tobacco production (11.3 percent).
"At the same time, a number of industries are continuing to slow down in comparison with 2005 levels — production of leather and shoes, wood processing and manufacturing, publishing and printing," the committee for economic development, industrial policy and trade said in its statement.
News source: times.spb.ru


Print this news
---
Business news archive for 21 July' 2006.
Business news archive for July' 2006.
Business news archive for 2006 year.