Business news
Management Companies Eye Better Class of Home
08.04.2006 15:21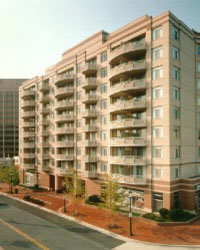 By Yekaterina Dranitsyna
Staff Writer
St. Petersburg's housing committee has said that within four months all residential buildings not yet receiving the services of a management company would be offered to such firms at auction. Tenders for a total of 60 million square meters of residential area will be put on offer from September through November, Regnum reported Monday.
Only 25 percent of houses in the city are currently serviced by management companies.
"Only two out of the eight private management firms that won tenders for housing services last year, have failed to invest and carry out all necessary works," Regnum quoted Yunis Lukmanov, chairman of the housing committee, as saying.
Companies that fail to carry out the specified works will be excluded from the upcoming tenders, Lukmanov said.
Despite the large size of the areas destined for auction, only a few located within certain districts will make attractive propositions for the management companies.
"Not all citizens are ready and able to pay for housing services and maintenance. In the Komendantsky Aerodrome area, for example, you can get into trouble just installing a new front door," said Igor Gorsky, director for development at Becar.
"People living in 'comfort-class' and other improved types of home understand what they are paying for. All the others regard management and service companies as blackmailers," he said.
Places where overdue bills are the norm rather than the exception, may be limited in the opportunities they provide, Gorsky suggested.
He indicated Primorsky district, Ozerki, Prosveschenia and Udelnaya metro stations as the areas management companies would compete for.
"Some middle-class parts of the Vyborgsky and Petrogradsky districts will be most in demand. Avtovo and Prospect Bolshevikov are historically inhabited by people of a relatively high income, as are some parts of Vasilievsky island," Gorsky said.
Yevgeny Galeyev, director for development at the Central Real Estate Agency, indicated newly built areas of the Primorsky and Vyborgsky districts as most the attractive, because engineering and communal infrastructure in these buildings is in good condition.
"Houses built 10 years or 15 years ago could also be a good option, since their networks are still viable. Generally speaking, any house that does not require a large outlay on repairs and reconstruction is attractive," he said.
Buildings in the city center that have not undergone complete overhauls, and much of the Admiralteisky district, are in the worst condition, Galeyev said.
State-owned Zhilkomservices are expected to win a significant part of the tenders.
"We might want to criticize Zhilkomservices, but only such companies, or very large private firms, are fit to manage the more 'troublesome' houses," said Genrikh Ken, press attache to the Piter Dussmann company, which serves houses in the Admiralteisky district.
Large private management companies do not number that many, Ken said, and most firms are interested in houses built within the last 10 years to 15 years.
The mere winning of a tender does not necessarily mean the company will continue to service particular houses in the future, Ken said.
"As the tenders assume the creation of associations of property owners in the serviced buildings, it would be interesting to see how Zhilkomservices and private companies will handle this problem. People will be in favor of such associations only if they're going to get high-quality services," Ken said.
There has been a gradual increase in the prices of housing services, moving towards an adequate level defined by the market. Since Aug. 1 the average bill for housing services increased by 7.5 percent, prices for communal services — by 25 percent.
Ken saw the price increase as a positive step.
"The problem is that even after this increase in prices people will not cover 100 percent of property maintenance costs. Most of them are not ready to spend their money on general building works," he said.
"Only in two or three years time may it be possible to speak of 100 percent payments for housing services in St. Petersburg," Interfax cited Lukmanov as saying.
News source: sptimes.ru


Print this news
---
Business news archive for 04 August' 2006.
Business news archive for August' 2006.
Business news archive for 2006 year.