Business news
Russia's Russneft to spend $1.5 bil on upstream from 2007- 2012
09.05.2006 15:27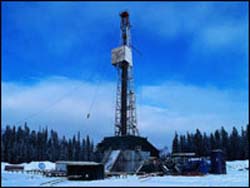 Russia's Russneft, the country's fastest-growing oil firm, plans to invest $1.5 billion in exploration and production in 2007-2012, a company representative said Monday, confirming comments made by its president Mikhail Gutseriev in St Petersburg.
The company plans to raise crude output from its existing projects to 20 million mt/year (400,000 b/d) in the next five years, Gutseriev was quoted as saying. In 2005, Russneft boosted its output to 16.5 million mt, up from 6.7 million mt 2004, after buying several upstream units in Russia.
Russneft has adjusted its upstream plans, reducing the output forecast from a previous target of 25 million mt/year after failing to acquire any additional assets, the representative said.
"The 25 million my/year forecast took into account possible new acquisitions but there are no more interesting upstream assets in Russia," he added.
Earlier this year, Russneft failed to win the 118,000 b/d oil producer Udmurtneft, auctioned off by TNK-BP.
The company's output growth is mainly expected from the Shapshinskaya group of fields as well as from Novo-Valyuninskoye and Novoaganskoye fields, all in the Khanty-Mansiisk autonomous region in West Siberia, Gutseriev said.
Russneft linked the Shapshinskaya group, with recoverable reserves estimated at over 70 million mt, to the national trunk pipeline system operated by Transneft several months ago and plans to pump some 1 million mt from the area in 2007. The plans are to raise crude output from the group of fields to 1.5 million mt/year within five years.
The company is also starting active development of its new fields in the Tomsk region, also in West Siberia.
Gutseriev has confirmed the company's plans to conduct an initial public offering in the coming years. Russneft plans to place some 10% to 25% of its shares on the open market.
Gutseriev also said Russneft planned to issue euro bonds but did not specify a time frame. "The issue of euro bonds will become possible after the company has started preparing its financial report under international standards, which is scheduled to take place by the end of this year," the representative said.
Gutseriev also said the company expected its net income to reach some $1billion in 2007, providing no figures for comparison.
Separately, Gutseriev said his company declined to bid for Yukos' 49% stake in the Slovak oil pipeline company Transpetrol.
The company's recoverable reserves, mostly in western Siberia, are estimated at over 630 million mt of oil. It has 30 upstream facilities, three refineries and 300 retail outlets around Russia.
News source: platts.com


Print this news
---
Business news archive for 05 September' 2006.
Business news archive for September' 2006.
Business news archive for 2006 year.