Business news
Current developments and opportunities in the Russian Maritime market
10.23.2006 15:42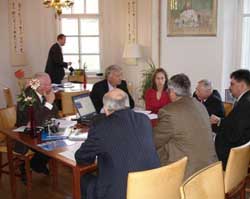 Innovation Norway St.Petersburg together with Maritimt Forum Sør-Øst Norge and several other partners from Denmark and Sweden organized the meetings of the Partenariat. Participants included Brunvoll AS, Norcon Engineering AS, Vassnes Electro AS, Simrad AS, Teekay Marine Services AS, EMGS AS and Maritime Forum Sør-Øst Norge, representatives from Buskerud/Telemark/Vestfold counties of Norway.
Partenariat meetings were met with interest from the Russian side and 35 Russian companies looking for partners in Scandinavia had registered for the meetings, among them shipyards, ship consultants, designers, distributors, agents and suppliers of ships' gear and services for the maritime industry. Each Scandinavian participant had an opportunity to have 10 – 12 meetings with potential partners. In addition, Innovation Norway St.Petersburg had arranged visits to Baltijsky Zavod shipyard and Baltsudoproject Design Bureau, both leaders in St.Petersburg shipbuilding and design.
Initial feedback for participants was very positive and everybody had concluded that this first effort to arrange a joint Scandinavian – Russian meeting place was a definite success.
Current opportunities in market
The continuing rapid growth in Russia's investments, consumption and production (7% per annum) demands massive expansion of the country's transport systems, infrastructure and logistics. Shipping lies at the heart of this expansion.
In addition to the natural economic growth and increased wealth as the country adapts to western business practices, the maritime and offshore energy industries are particularly benefiting from the Russian oil and gas boom.
Foreign manufacturers and producers are increasingly invited by the Russia state to enter the Russian maritime market and should be further encouraged by the introduction of the Russian International Ship Register which involves cheaper long-term credits and the lifting of currency exchange regulations for the Rouble – conditions intended to provide a boost for Russian operators and shipbuilders. St.Petersburg being Russia's real maritime center, Innovation Norway is focusing on promotion of Norwegian products and services to the quickly growing maritime market.
Capital and investments
The Russian government this month repaid in full the historical (USSR) debt owed to the "Paris Club" and Russia now becomes a "Paris Club" creditor with record reserves of over $200 billion.
A $10 billion budget is estimated for the rebuilding of the Russian commercial fleet ($2-3 billion annually) financed by State credits, domestic and foreign banks.
$22 billion is expected to be invested in the maritime and offshore energy industries during the next five years.
Here are some examples of recent market developments:
SHIPBUILDING, SHIPYARD AND SHIPs' EQUIPMENT
• 15 year state budget of Roubles 3 trillion for shipbuilding and equipment
• Customs taxes on imported equipment already reduced or cancelled
• Ships built in Russia to carry nil VAT
• Tax benefits apply to joint ventures with Russian partners
• Russian Fleet to be increased by 750 vessels to year 2020 with 17 million tons and approximately $13 billion value
• 124 ships currently under construction in Russian shipyards
• Admiralty Shipyard receives $350 million order for oil tankers
• Baltic Shipyard order book $600milion to 2009
• Rosneft orders three shuttle tankers from Spain
• European Equipment Suppliers for Ice-Class tankers
• Murmansk, Far Eastern and Northern Shipping Companies to buy bulk carriers, container ships and multi purpose vessels from abroad
• Admiralty, Baltic and Northern Shipyards, St. Petersburg identify Ropax and offshore tonnage
• New shipyard with 100,000 dwt capacity for Kaliningrad as joint venture with European builders
• 7 Ice-Breakers planned for the Arctic
• Government backs construction of research ships, floating drilling installations, blocks for stationary platforms and a wide range of service ships
• Volgograd Shipyard to build chemical tankers for Svithoid Tankers, Sweden
• Korea's STX Shipbuilders consider joint venture yard in Russian Far East
OFFSHORE ENERGY PLATFORMS AND EQUIPMENT – FOCUS ON THE ENERGY SUPPLY CHAIN
• State budget Roubles 30 trillion for offshore development to year 2020
• 17 offshore sites identified to increase oil and gas output by 25% by 2010
• Increasing reliance on foreign technology for Arctic and Far East energy fields
• Joint Baltic LNG projects planned with Petro-Canada
• "North European Pipeline" project under the Baltic Sea
• Russia's expected requirement for 50 drilling platforms with full fleets of support vessels, floating storage facilities
• First offshore ice-resistant platform to be located in the Arctic within 18 months, supported by two ice-breakers and two 70 000 ton ice-class tankers
• Russia develops largest world supply of natural gas (27%)
• Gazprom expands global sales network e.g. creates subsidiary company in USA
• 10-15 large LNG carriers sought by Gazprom
• Russian oil supplies to Pacific Rim with start-up date October 2006
• Russia – China energy agreement expected by 2007: Co-operation already in place for Sakhalin3 project
PORTS AND TERMINALS
• National port capacity growth targets 10-15% per annum
• Container handling throughput to increase five times during next 6 to 7 years
• Sea ports specialisation programme to achieve annual increases of 10-15%
• St Petersburg expansion for containers, refrigerated cargos and bulk terminals
• European gas pipeline planned from Vyborg to Germany
• New container port for Ust-Luga
• Car-rail ferry terminals for the Baltic
• New passenger terminals for St. Petersburg
• Construction of offshore energy trans-shipment terminal at Murmansk Port for onward transportation to Europe and USA
• Novorossiysk Seaport to attract container trade to the Black Sea with new 350,000 TEU terminal
• International port investors increasingly involved in the management of Russian terminals e.g. Hutchison Port Holdings
• Vysotsk Port doubles throughput in 2005
• Primorsk Port increases throughput by 28% in 2005
• General port development at Rostov also to build container terminal for river traffic to link the Black Sea, Azov and Caspian Seas
• Azov Sea Port expansion to handle 800,000 tons annually
SHIPPING
• Increased co-operation between Russian and foreign shipping companies e.g. Lukoil and Stena Bulk, Sovcomflot and Shipping Corporation of India, Novoship/ Sovcomflot and Marpetrol Spain take advantage of expanding trade opportunities
• Russian sea cargo expected to hit US Dollars 5 billion per annum
• 80 tankers and gas carriers of 4 million tons required to meet Russia's energy trades
• Northern sea route development – short route from Norway to Alaska – open to foreign vessels.
• Palmali Shipping aims at 2 million dwt in two years
• Five Ice-Class container ships for Norilsky Nikel
• 18 new buildings for Novoship by 2008
• Sovcomflot to be over 4 million dwt this year, 5 million dwt by 2008
• FESCO orders 3 container ships from Aker, Germany as part of box ship and logistics expansion
• Italian PB Tankers commits investment to 8 tankers and 5 barges for River Volga operation
• PRISCO fleet renewal up to 40 + vessels (14,000 dwt to 166,000 dwt) within three years, with twelve ships already on order
Planned activities
Innovation Norway office in St.Petersburg is constantly updating Norwegian companies on the developments sending out a monthly Russian Maritime Newsletter. This report is free of charge and subscription is available for all interested companies. Contact Nicolay Shavrov at e-mail nicolay.shavrov@invanor.no
In September 2007 Innovation Norway is planning to organize joint Norwegian stand at shipbuilding and shipping exhibition Neva 2007 in St.Petersburg, which is the Russian equivalent for Norshipping. More information about this event can be obtained at our web site www.innovationnorway.no/exhibitions
News source: eksportaktuelt.no


Print this news
---
Business news archive for 23 October' 2006.
Business news archive for October' 2006.
Business news archive for 2006 year.