Business news
Power Unit 2 of North-West CHPP Brought On Line
12.01.2006 14:30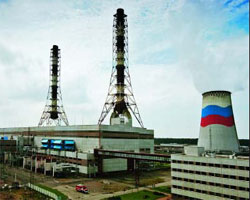 The second power unit (450MW) of North-West CHPP* was brought on line today in St. Petersburg.
The ceremony was attended by Italy's Minister of Economic Development Pier Luigi Bersani, Chairman of the Management Board of RAO "UES of Russia" Anatoly Chubais, and Chief Executive Officer and General Manager of ENEL Fulvio Conti.
In recent years the Leningrad energy system, which includes St. Petersburg and its regions, has seen rapid growth of electricity consumption. In winter 2005-2006 a historical peak demand of 1990 was overtopped by 10.3%. During the winter to come, the volume of electricity consumption in the region will exceed that of the previous year.
St. Petersburg and the Leningrad Region have been included in the list of 16 "peak load areas" – regions with high probability to face electricity capacity shortfalls during load peaks in winter 2006-2007.
Commissioning of the second power unit of North-West CHPP has doubled the plant's capacity up to 900MW what enables to enhance reliability of electricity supply to customers of the region.
The unit's commissioning was in sync with date of completion of the heating main between North-West CHPP and St. Petersburg's Primorskiy district. The project implementation allows the plant for 730 Gcal/h of heat distribution and enhances heat supply to a number of St. Petersburg's districts. Moreover switching from condensation to cogeneration mode considerably increases the fuel efficiency of the plant.
North-West CHPP is one of the most technologically advanced power plants not only in Russia but Europe as well. It utilizes a modern combined-cycle gas technology,* which ensures the plant's efficiency ratio up to 51.5%, compared to less than 40% for common steam power plants. Besides it allows for saving up to 20-25% of fuel and reduction of hazardous emissions by a third. The cogeneration mode increases the fuel efficiency of North-West CHPP up to 76%.
The amount of investments into construction of the second power unit of North-West CHPP totals RUB9 billion. The construction was funded through a project finance scheme without attraction of centralized investment funds of RAO "UES of Russia".
* North-West CHPP is first of Russia's new-generation power plants with highly economical and environmentally safe technology of power and heat generation. The plant is located in St. Petersburg's Primorskiy district. Since September 2004 North-West CHPP has been run by an international consortium ENEL-ESN Energo, which won the tender conducted by RAO "UES of Russia".
The authorized capital of North-West CHPP amounts to RUB166 804 580 and is divided into 16 680 458 ordinary shares, par value RUB10 per share. The major shareholders of the plant are RAO "UES of Russia" (66.45%) and ZAO "INTER RAO UES" (25%+1 share).
** Besides North-West CHPP, the combined-cycle gas technology is used at Sochinskaya CHPP, Kaliningradskaya CHPP-2, and Tyumenskaya CHPP-1. The use of this and other advanced technologies in new projects to build new and upgrade the existing generation facilities is a priority line of technical modernization of the electricity industry being carried out by RAO "UES of Russia".
News source: www.russianewswire.com


Print this news
---
Business news archive for 01 December' 2006.
Business news archive for December' 2006.
Business news archive for 2006 year.