Business news
Economic Experiments at the Border
06.27.2007 15:52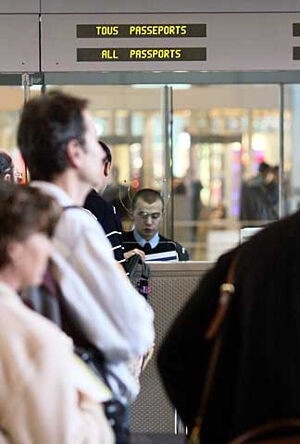 By Galina Stolyarova
Staff Writer
The North West region of Russia, with St. Petersburg at its center, is set to become the test ground for new forms of direct inter-regional cross-border agreements between Russia and the EU that it is hoped will boost trade and investment between the two economic blocs.
In May, Russia's Ministry for Regional Development signed its first agreement with the European Commission that would help to establish and support direct contacts between the Russian and EU regions, bypassing national governments.
Small regional towns in Russia do not yet have the authority to sign direct agreements with foreign cities across the border. Regional governments have been seeking to increase their powers but without little success: Russia lacks the legislation that would frame and regulate these contacts. The very term "cross-border cooperation" does not exist in Russian law.
"The economic gap between various regions in Russia is great and still increasing, and therefore general memoranda do not make much sense because what is most needed is tailor-made partnerships in specific areas where particular needs are great," said Pedro Henriques, a counsellor of the Delegation of the European Commission to Russia. "The agreement can be used as a good starting point to look for a common ground between different regions."
Henriques attended a conference about cross-border cooperation held in Moscow at the end of May. The event, focusing on the prospects and obstacles for co-operation between Russian and its Baltic and Nordic neighbors, attracted politicians, businessmen and academics from Russia, the Baltic region and the Nordic states.
Speaking at the conference, Slava Khodko, chairman of the board of the St. Petersburg-based Northwestern Agency for Investment and Development, suggested that the city of St. Petersburg or the whole of the North West region is experimenting with possible models of cross-border cooperation that could be applied to other regions in Russia.
"If they prove successful, then it can be safely used in the other regions," Khodko said.
Across Russia, 49 regions have borders with foreign countries but the North-West region is widely considered a champion of cross-border collaboration. In May, an ambitious new project with a budget of 3 million euros was launched in St. Petersburg. Titled BEN-East (the Baltic Euroregional Network), the project, aimed at promoting cross-border ties between regional authorities, is funded by the Nordic Council of Ministers and the EU and will run for two years.
"The largest and most significant component in our cooperation with Northwest Russia is our program for mobility and network activities that officially began this year," said Halldor Asgrimsson, Secretary General of the Nordic Council of Ministers. "Through this at least 500 Russians will be able to participate in study programs in Nordic countries each year. The priorities of the program will be public administration, research and education, the private sector and civil society."
Russia's trade with the EU has rocketed over the past five years. Fifty-five percent of Russia's export go to EU states and Russia is the EU's third-largest exporter, after the U.S and China. Russia also holds fourth place among importers of products produced in the EU. At present, the annual EU budget for projects in Russia amounts to 30 million euros. Priority spheres include transport, energy, environment, tourism and culture.
Cross-border cooperation was discussed during a politically tense Russia-EU summit in Samara in May, when Russia pledged to allocate 200 million euros to fund joint cross-border projects with the European Union, in addition to 300 million euros assigned by the EU for seven cross-border programs to run between 2008 and 2013.
Russia has been trying to shift its relations with the EU into the sphere of "equal partnership" on all stages, with joint funding, joint planning and joint implementation. Russian officials have argued it is time to end what they call "the era of donors and recipients." But the idea of equal partnership does not equally appeal to all EU member states, and Russia is criticized for failing to adhere to democratic standards.
Pekka Jarvie, a counsellor with the regional development department of Finland's Interior Ministry warned against political considerations influencing or dictating the policies of economic cross-border cooperation. And he said it is high time to end the practice of wasting huge sums of money in vague projects launched in the name of improving cross-border ties.
"What is missing and what should become a top priority, is a stock of efficient control tools over the funds involved in joint projects," the Finnish official said. "For example, if there is a case of misappropriation of money by a regional or another authority, then there has to be a detailed scheme stipulating the rules of paying it back."
Earlier this year, Vasily Likhachyov, deputy chairman of the International Affairs Committee of the Federation Council criticized relations between Russian parliamentarians and delegates of the parliaments of EU states within PACE (Parliamentary Assembly of the Council of Europe), and blamed the organization for failing to push forward any initiatives on developing legislation that would facilitate cross-border activities.
"Our delegates treat each other worse than some divorced spouses," he said. "At times, it seems they completely ignore each other's existence, or even behave as if they are unaware of any common goals, interest or ground."
In the meantime, Vitaly Shipov, deputy minister of regional development and former mayor of Kaliningrad said that even in the absence of coherent legislation, political will can work wonders at a single frontier point.
"About a month ago I was driving my car to Kaliningrad, passing the Lithuanian and Belarusian borders," Shipov recalls. "In Lithuania, the whole process was quick and painless, coming down to about ten minutes of sorting out the formalities. But crossing the border with Belarus took over the whole of six exhausting hours. We were hopelessly stuck there for no obvious reason."
Shipov felt the key to the efficiency he saw in Lithuania was in a modest-looking advertisement for an anti-corruption hotline that people can call to report unnecessary procrastination, the extortion of money, discrimination and hate speech of any kind.
"I have no idea how often that line is actually used but the presence of the advertisement does what it should do," Shipov said.
News source: times.spb.ru


Print this news
---
Business news archive for 27 June' 2007.
Business news archive for June' 2007.
Business news archive for 2007 year.