Printed from: http://petersburgcity.com/news/business/2014/02/03/RU_BE_coppoz_030214/
Business news, 03.02.2014 15:15
Belarus, Russia to produce composite materials in Saint Petersburg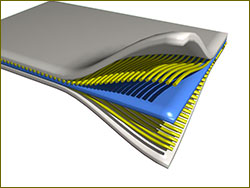 A Belarusian-Russian joint company will make composite materials in Saint Petersburg. The project was viewed as one of the most promising programs discussed at the meeting between Ambassador Extraordinary and Plenipotentiary of Belarus to Russia Igor Petrishenko and Saint Petersburg Governor Georgy Poltavchenko in Saint Petersburg on 29 January.
"The parties discussed the problems related to the supplies of passenger transport from Belarus, prospects for expanding the presence of MAZ products on the Saint Petersburg market, the export of hoist equipment to Saint Petersburg, and involvement of Belarusian companies in the Saint Petersburg housing and utilities system. Among the most promising projects is a joint company to produce up-to-date composite materials in Saint Petersburg, the production of Belarusian newest trolleybuses and buses fitted with hybrid systems that can be further purchased by the Russian Northern capital," the noted to message.
The parties exchanged opinions on the progress made in the implementation of the trade, economic, sci-tech and humanitarian cooperation program signed between the Governments of Belarus and Saint Petersburg for 2012-2016. According to Georgy Poltavchenko, the Government of Saint Petersburg has compiled proposals to amend the joint action plan taking into account the most promising cooperation areas. In his words, the Belarusian side has worked out similar proposals to promote the development of cooperation ties.
The parties agreed to hold a meeting of the working group of the Belarus-Saint Petersburg Business Cooperation Council in March 2014. The Belarusian part of the Council is headed by PM Mikhail Myasnikovich, the Russian part – by Governor Georgy Poltavchenko.
During the talks Igor Petrishenko congratulated the Saint Petersburg Governor on the 70th anniversary of the end of Leningrad blockade and invited war veterans, the residents of the Northern capital of Russia, local authorities, youth associations of Saint Petersburg to partake in the celebrations of the 70th anniversary of the liberation of Belarus from the Nazis. The Belarusian diplomat told the Saint Petersburg Governor about the events scheduled to mark the date, including the plans to inaugurate a new building of the Belarusian State Museum of the Great Patriotic War History.
Georgy Poltavchenko stressed that Saint Petersburg is ready to participate in the celebration of this remarkable date for the two brotherly nations. He suggested organizing a special train of memory for war veterans and young people.
In January-November 2013 the trade between Belarus and Saint Petersburg totaled $1,723.4 million, up 12% from the same period 2012. The Belarusian export reached $1,119.2 million (up 7.3%), the import went up to $604.2 million (21.7%).
Belarus posted trade surplus of $515 million.
In 2013 main exports to Saint Petersburg were fresh or cooled beef, non-alloy steel rods, oil products, cheese and curd, milk, condensed and powered cream, furniture, meat and poultry, frozen beef, sausages and similar meat products, trucks. The imports from Saint Petersburg comprised motor cars, beer, power generating assemblies, alloy-steel rods.
News source: BelTA