Printed from: http://petersburgcity.com/news/city/2001/06/05/news321/
City news, 05.06.2001 16:35
"Our Time" media forum will be held in St. Petersburg June 12 to 16.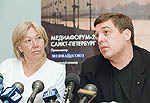 Nine Mediasoyuz guilds: on Politics, Economy, Ecology, Religion, Culture, Local Press, Student Press, PR and the Internet, are presented. A press conference dedicated to the upcoming media forum was held in "Europa" hotel. Photo by N. Infantiev, Interpress.