Printed from: http://petersburgcity.com/news/city/2001/07/23/news565/
City news, 23.07.2001 11:56
20000 people will come to celebrate the NAVY Day in Kronstadt.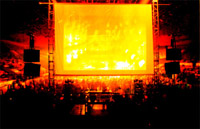 This summer the Navy Day will be celebrated in Shants Fort in Kronstadt. This is one of the oldest city fortifications. It was built in ÕVIII century on Kotlin island.

The celebration will continue for two days. On Saturday (July, 28) it will begin with night music and art performance. German DJ Westbam will play his exclusive set. On Sunday (July, 29) it will continue with pop and brass band concerts, fireworks and laser show.

More than 20 thousand people will visit this event.

During the night show 'Rechniki' art-group will show a unique performance. Four real anti-aircraft searchlights will be used.