City news
Governor Discusses U.S. Visa Hassles
11.25.2003 17:37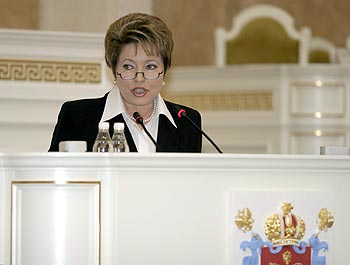 St. Petersburg Governor Valentina Matviyenko has asked the U.S. ambassador to consider complaints by city residents about the American Consulate's frequent refusals to issue them visas to the United States.
"It has become more difficult to get a visa, and we get a lot of complaints from St. Petersburg residents," Matviyenko said to U.S. Ambassador to Russia, Alexander Vershbow, who was on a visit to St. Petersburg on Friday, Interfax reported.
"We understand all the aspects of security and economics, but I ask you to pay attention to that," Matviyenko said, adding that frequent denials would harm the development of business contacts between the U.S, and St. Petersburg.
Matviyenko said that even when working as a deputy prime minister in the government, she herself had problems getting a visa to the U.S. to attend a session at the United Nations.
"I got the visa only three hours before the flight," Matviyenko said. "What can we then say about Russia's regular citizens?"
Vershbow said that he "understood the concern" and was interested in having more St. Petersburg residents visiting the U.S., but added that such procedures were still necessary.
"There is a law on migration, but we try to perfect those procedures," he said.
Vershbow said that the visa restrictions are determined not only by security requirements, but also because of concern about illegal immigration to the U.S., Interfax reported.
Vershbow stressed that despite new, stricter visa rules "the number of denials did not change and is about 20 percent." If "an applicant can't convince a consulate staffer" that they are bona fide visitors, that is sufficient reason to refuse an application, he said.
Applicants can also apply for a visa through a private firm, without a personal visit to a consul, he added.
Vershbow asked Matviyenko about the possibility of giving a piece of land for the construction of a new building for the U.S. Consulate in St. Petersburg.
Vershbow said the consulate's current building at Ulitsa Furshtadskaya is very crowded, Interfax said.
"Due to terrorism threats there are now new standards for such institutions - they need more distance between a consulate building and the street," Vershbow said.
Matviyenko promised to do "everything possible" in regard to Vershbow's request, but added that it's impossible to find the 4 hectares of spare land needed for a new building in the center of the city.
Vershbow also spoke about the opportunity for U.S. participation in the city programs for developing mortgages and liquidation of dilapidated and emergency dwellings.
Meanwhile, the governor's press service announced that in a year St. Petersburg is planning to provide a Russian-American conference on attracting foreign investments into the city's communal sector.
Vershbow also delivered a grant for $20,000 to the library of the Russian Academy of Science for the restoration of rare books which were damaged during a fire in 1988, Interfax reported.
Vershbow said the money will be spent on restoring books about the history of Russian-American relations.
He said the initiative for the grant came from U.S. president George W. Bush during his visit to St. Petersburg in May.
News source: www.sptimes.ru


Print this news
---
City news archive for 25 November' 2003.
City news archive for November' 2003.
City news archive for 2003 year.