City news
More babies born last year, but birthrate still low in the city
02.13.2004 14:32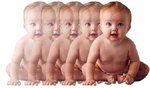 St. Petersburg residents are having more children, marrying more and later, statisticians say. They also use surrogate mothers more frequently than before, and prefer to marry Americans more than other foreigners.
This summary of the city's births, deaths and marriages in 2003 was released by the St. Petersburg Civil Registry Office, or ZAGS on Wednesday. The only pessimistic signs of the latest research was that exactly half of marriages break up, and that the city's birth rate remains the lowest in the country.
"The number of births in St. Petersburg increased to 40,700 in 2003 compared to 37,720 born in 2002," said Galina Bogdanova, head of St. Petersburg ZAGS. "However, the birth rate in St. Petersburg is still the lowest in Russia," she added.
Bogdanova said during the last three years St. Petersburg's birth rate had gradually increased after a demographic low point in 1999, when only 29,879 children were born. In the last 20 years the highest number of births registered in the city was in 1987, when 74,065 babies were born.
The number of children born to surrogate mothers is rising, Bogdanova said. "In 2003 children were born from 15 surrogate mothers, while in 2002 there were only six children born that way, and in 2001 - five cases," she said. The first case of surrogate motherhood in Russia was also registered in St. Petersburg, she said.
Foreigners gave birth to 311 children last year. Eighteen of the babies are American citizens, there were 17 each with Turkish and Afghan citizenship, 16 are Lithuanians, and 14 have Finnish citizenship. ]
According to the civil registration office, the most popular names in St. Petersburg are Alexander, Alexei, Anatoly, Andrei, Dmitry for boys and Yekaterina, Yelena, Anastasiya, Natalya, Darya and Maria for girls.
News source: www.sptimes.ru


Print this news
---
City news archive for 13 February' 2004.
City news archive for February' 2004.
City news archive for 2004 year.