City news
Caterpillars envelop St Petersburg
06.16.2004 16:22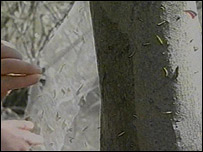 "The situation is critical," Tatyana Dorofeyeva, an insects specialist at the parks' protection department said. She said that the authorities' countermeasures taken to date were thought to be no more than 50% effective.
The bird-cherry ermine moth caterpillars (Yponomeuta evonymella) strip the trees of leaves and then cover what's left with a cobweb-like substance from the roots up.
"Right now the caterpillars are multiplying at an incredible rate and producing their cobwebs on an industrial scale," the TV reported.
Parks' department staff are said to be working flat-out to contain the outbreak.
"The caterpillars are not poisonous but in these quantities they could aggravate allergic reactions, biologists say. Trees are inspected after being sprayed. The results are not reassuring. They're still multiplying," a correspondent said.
"The city had no idea that it was under threat from such an invasion," Galina Tyullina, head of the parks' protection department, said. "If the situation had been monitored in good time and arrangements made for treatment to be carried out, we could have gone out spraying in early May and headed this off in advance."
The city's inhabitants are already bracing themselves, first for the airborne invasion of bird-cherry ermine moths when the pupae hatch in four weeks' time: and then for next year's expected sequel - dubbed by the TV "Invasion of the Caterpillars 2".
However we'd like to add on behalf of petersburgcity.com that in consequence of a quite cool and windy weather for the last two days these terrible caterpillars have frozen to death and disappeared from parks and squares of our city. Therefore please don't worry while planning to visit our wonderful city.
News source: news.bbc.co.uk


Print this news
---
City news archive for 16 June' 2004.
City news archive for June' 2004.
City news archive for 2004 year.