City news
'Venetian' Gondolas Ply City Waterways
06.25.2004 12:12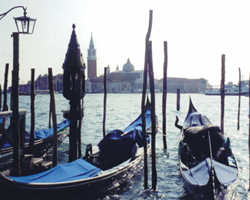 Although founder Peter the Great had planned for a city based on Amsterdam, St. Petersburg's canals and the work of Italian architects have lead it to become known as the Russian version of its Italian cousin.
Starting this summer, those canals have gondolas to match.
The idea came after Alexander Smirnov, a local attorney, heard that Venice, had presented St. Petersburg with its very own romantic gondola. The gift is sitting in the History Museum at the Peter and Paul Fortress, but isn't for hire.
That's where Smirnov comes in.
"It will be great if the black swans of Venice go along the canals of St. Petersburg," Smirnov said.
As general director of Venetsia Nord, he took great care to model his gondolas, made in St. Petersburg, after those found on the Venice canals. He would not reveal how much they cost, but said they didn't come cheap.
Lithe young men, sans uniforms or matching hats with tassels, stand on the helm of the boat, dipping their paddles into the water and stroking it slowly. Italian gondolas are usually equipped with long poles, used to push off from the bottom of the canals.
Smirnov said the gondolas were made to match their Venetian counterparts, even down to the poles, however the gondolier navigating one of the boats Wednesday seemed to be paddling.
The gondolas don't venture out into the Neva river, where they could get caught in the wake of larger vessels, but three make the journey around Peter and Paul Fortress. Tourists can catch one from a dock near the entrance to the fortress.
Smirnov's partner, Alexei Alyokhin, said a tour aboard the gondolas costs about 10 euros for about an hour.
"The trip costs what it costs in Venice, not more, not less," Smirnov said. But he's willing to give tourist firms "a serious discount."
Another three gondolas are expected to start a new route near 11 Naberezhnaya Reki Moiki, touring the canals in the next few days. Working hours are 10 a.m. to "whatever time necessary," Alyokhin said.
The gondolas will operate until September or October, depending on the weather.
News source: www.times.spb.ru


Print this news
---
City news archive for 25 June' 2004.
City news archive for June' 2004.
City news archive for 2004 year.