City news
Kremlin Contradicts Matviyenko's News
07.16.2004 11:58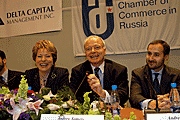 By Vladimir Kovalev
STAFF WRITER
Photo by Alexander Belenky / SPT
"A decision to move some capital functions to St. Petersburg has been taken, but until it is officially announced to the public I do not have the authority to give more details about it or about plans to use buildings of Senate and Synod for this purposes," Matviyenko said at a meeting with members of the St. Petersburg chapter of the American Chamber of Commerce.
City Hall is negotiating with the Culture Ministry of Culture, the Federal Agency for Managing State Property and other federal structures to hand over to St. Petersburg the management of architectural monuments of federal significance, she said.
"We don't have to run to Moscow all the time to ask for permission about certain buildings," Matviyenko said. "We have to have these responsibilities [in our hands] here and we will get it as a city of federal significance."
"This will allow us to solve questions of city development in a more dynamic and more effective way," she added. But the federal government was quick to denounce the governor's statement.
"The government has no plans like this," Viktor Konnov, the government spokesman said in a telephone interview Thursday. "I will restrain myself from any further comments."
The most recent mention of plans to move some capital functions to St. Petersburg before Wednesday was on June 1, shortly before a Federal Council meeting, which had been due to discuss the matter, but did not.
Federal and local officials started talking about moving to the supreme, constitutional and arbitration courts, placing them in the Senate and Synod buildings, located on Senate Square. At that time Ilya Klebanov, the presidential envoy to the Northwest region confirmed the plans.
According to Delovoi Petersburg, the plans are to move to St. Petersburg 310 employees of the national court department, 125 judges of the Supreme Court and 687 members of its staff, 60 judges of the Supreme Arbitration Court and 435 members of its staff.
"There's quite a strong resistance in the courts and the [federal] government in Moscow to this idea, Vladimir Yeryomenko, a Legislative Assembly lawmaker in the Mariinskaya faction said Thursday in a telephone interview. "But I think Matviyenko has indirect approval from the president to make such announcements. She is not an inexperienced politician."
"The Kremlin's denial doesn't show the presidential administration in a good light," he said. "It demonstrates there are disputes within the administration and the government and it reflects badly on the president."
Meanwhile, AmCham members were interested to hear more practical things about a wide spectrum of city life ranging from problems with parking to requests to involve foreign businessmen in overseeing tenders for construction that have recently been introduced by City Hall.
"Of course, though, if there is person sitting with a hammer in front of bidders, there is not really much to monitor," Matviyenko said. "But in other questions, involving the work of different commissions, we are ready for cooperation with any association and can include their members in a working group.
"Get ready with your offers," Matviyenko said answering a question from Matthew Murray, chairman of the Center for Business Ethics and Corporate Governance.
Businessmen were in general quite happy with Matviyenko's answers especially considering it was the first meeting of its kind with the foreign community.
"I thought she was very impressive," Murray said Wednesday in an interview. 'I think that the governor has obviously thought through the key problems facing the city and she has many, many ambitions that are very logical and make a big deal of sense.
"The key now is if can she form a coalition of interested parties, honest government officials, honest businesses, honest organizations representing civil society that can actually fulfil these ambitious plans," he said.
Paul Price, vice president of Delta Capital Management, which is a part owner of the city's Radisson SAS Royal Hotel, was concerned about plans of the governor to build more hotels in the city, asking Matviyenko if representatives from the international hotel business can participate in works to set up a concept for city tourism development.
But Matviyenko said the development of the concept is the responsibility of the Boston Consulting Group because City Hall has already signed an agreement with that company.
The hotel businesses can be involved when the concept is ready, Matviyenko said.
"It is encouraging that BCG is involved because they are a very capable consultancy group," Price said after Matviyenko's speech.
"My concern is that when 100 projects are mentioned that it may be very good for the construction industry, but you might get into a situation of oversupply, which ... could be as damaging as undersupply," he said.
After Stephen Gardner, an executive with telecom Peterstar, asked a question about security on city streets, mentioning problems with the local Roma community and illegal actions committed by the police, it appeared that Matviyenko has suffered herself, but in New York, not in St. Petersburg. "My bag was stolen in New York. And when I was in Italy I was always told to be careful about my things because there are people on motorbikes that take bags off very quickly passing you by," Matviyenko said.
Matviyenko said the city police try to deal with the Roma community, but she did not say a word about the police committing crimes.
"I know it's a difficult problem in every city, but I think St. Petersburg has more of a unique problem," Gardner said in an interview Wednesday. "It's not only just the people on the street, I mean criminals, it is sometime authorities that are meant to protect us. She answered a part of the question."
News source: times.spb.ru


Print this news
---
City news archive for 16 July' 2004.
City news archive for July' 2004.
City news archive for 2004 year.