City news
U.S. Open:Kuznetsova defies predictions
09.14.2004 15:01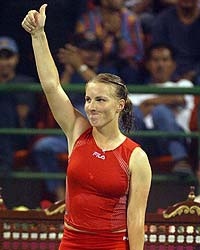 By Sandra Harwitt
Special to The Herald
New York - If you ask newly minted U.S. Open champion Svetlana Kuznetsova what her credo for life is she's likely to tell you, ``Without effort, you can have nothing in your life.''
It's a good thing that the 19-year-old, who hails from St. Petersburg, Russia, adheres to that kind of principle instead of listening to outsider opinion. Early in her junior days, the coaches in Russia were much more enthusiastic about the talents of other young players.
On Saturday night, when Kuznetsova clutched her first Grand Slam trophy with a 6-3, 7-5 victory against compatriot Elena Dementieva, a lot of those Russian coaches were probably wondering how their judgments could have been so wrong.
''Like the other girls who were No. 1, they [the coaches] were so good,'' Kuznetsova said. [The coaches said] 'Oh, they will be great. To me, they say, `You just OK, you know.' ''
That might have fueled modest expectations early in her pro career.
''After I made the Orange Bowl [final in 2001], I [felt I] would be happy to be like No. 100 one time,'' Kuznetsova said. ``But when I get to No. 100, it's like nothing, I should do better.''
After her U.S. Open title she will be a career-high No. 6 when the world rankings are released today. Kuznetsova has won four career titles since joining the tour full-time in 2002.
If Kuznetsova had followed in her family's footsteps, she would be cycling around the world instead.
Her father, Alexandr, coached five Olympic and world cycling champions, including her mother, Galina, who was a six-time cycling world champion and holder of 20 world records. And her brother, Nikolai Kuznetsov, won a silver medal in short track cycling at the Atlanta Olympics in 1996.
But her father thought she should do something else.
''We didn't have so much money in the family [because it] all was going to tennis,'' Kuznetsova said. ``[My mother] never asked for something. She didn't buy nothing for herself. It's just unbelievable to remember these things.''
Kuznetsova, who along with Elena Likhovtseva lost in the doubles final on Sunday, has not turned into a prima dona after her U.S. Open success. Instead of celebrating, she was heading off to defend her title at a Bali, Indonesia, tournament next week.
''I said my word, and I'm going to do this,'' Kuznetsova said. ``I'm not going to pull out of it.
``Of course, you want to celebrate this moment because later it will all be a little bit different. But still what I won, what I did, what I achieve, nobody can take away from me.''
News source: miami.com


Print this news
---
City news archive for 14 September' 2004.
City news archive for September' 2004.
City news archive for 2004 year.