City news
The reburial ceremony for Maria Fyodorovna's remnants to begin at the Danish cathedral
12.01.2005 16:59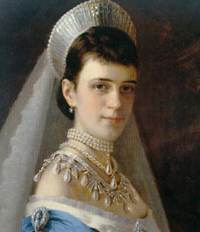 St. Petersburg, December 1, Interfax - The solemn re-burial ceremony for Empress Maria Fyodorovna's remnants to take place from September 26 to 28, 2006, will start at the Roskill Cathedral, Denmark.
There will be a solemn service and a ceremony of parting with Maria Fyodorovna at the cathedral, Mr. Jorgen Peter Vais, head of the Danish Royal General Consulate in St. Petersburg, said to Interfax.
Then the remnant will be taken to an Orthodox church in Copenhagen so that the Orthodox people living in Denmark could bid their farewell to the empress.
Then the remnants of the empress, accompanied by representatives of the royal court, Danish government and relatives, will be taken by a military ship to Kronstadt to be transferred to a smaller Russian ship that could moor at Petergof.
'The reburial ceremony was initiated by the empress's relatives. It was necessary to obtain permission from the Queen of Denmark. Russian President Vladimir Putin made this request to the queen. Her Majesty, having thoroughly considered the request, gave her consent to the reburial in spite of the fact that such procedures are untypical for Denmark', the diplomat underlined.
When in Petergof, he said, the coffin will be taken to the Church of the Holy Prince Alexander Nevsky in the Alexandria Park for a requiem service. The remnants, guarded by Danish and Russian guards of honour, will stay at the church through the night. Besides, a short symbolic stop is planned to be made at the Czar Village.
He also said that the Danish working group preparing the ceremony will come to Petersburg for the last time in April 2006 to settle all the details of the ceremony as well as cultural events to be held around the ceremony.
It is expected that the empress's reburial ceremony will be attended by representatives of the royal family, most probably, Crown Prince Frederic who may come with his wife, Crown Princess Mary, as well as Danish governmental officials. This matter however is still considered, the general consul noted.
Empress Maria Fyodorovna, nee Princess Dagmara of Denmark, a daughter of Danish King Christian IX and Queen Louisa, was born in 1847 in Copenhagen. She married the Russian Czar Alexander III and gave birth to six children including the last Russian Emperor Nicholas II. Maria Fyodorovna lived in Russia for 52 years.
The ceremony of the transfer of the empress's remnants from Copenhagen to Russia and the reburial will take place on September 26, 2006, the day when Maria Fyodorovna first came to Russia in 1866.
News source: interfax-religion.com


Print this news
---
City news archive for 01 December' 2005.
City news archive for December' 2005.
City news archive for 2005 year.