City news
Hoaxer Starts Rogue Elephant Hunt
12.16.2005 11:05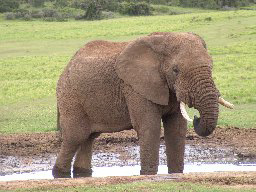 Police spent last night scouring the city on the trail of an imaginary runaway elephant reported to be strolling around the city by a hoax caller.
An unknown man called the police at approximately 1.30 a.m. on Thursday to say that an elephant, which belonged to a Finnish company, had broken free from its cage while being transported through the city in a large truck. The caller said that the animal made good his escape on the corner of Ulitsa Orbeli and Vtoroi Murinsky Prospekt in the Vyborgsky district.
The caller's tone of voice was convincing enough for police to put substantial forces on the trail of the escapee.
However, once the police were on their way, the hoaxer called again to report he had located and stopped the elephant outside 16 Ulitsa Orbeli. Officers who arrived at the given location found neither the caller nor an elephant. A thorough search of the surrounding area yielded nothing.
The police have now forgotten the big game catch and are focusing instead on finding the hoax caller.
Galina Afanasiyeva, spokeswoman for the city zoo, said staff had been amused when the story broke.
"Elephants are very dangerous animals, and they are guarded extremely well, especially during a journey," she said.
"There are no elephants in the city at all, and as far as we know, no deal has been made to acquire one by our zoo or any of the circus or theatrical companies in the region.
"They are such rare and expensive animals. They simply can't be driven around St. Petersburg in a shabby truck. Of course it was a hoax," she said.
Were an elephant to actually take a stroll around the city, a heavy-handed police response might not be the best solution, Afanasiyeva said.
"With proper care, elephants are the friendliest creatures, and have good relations with humans: one of our elephants even starred in a movie. But when scared and stressed, these animals get out of control and can be very destructive and dangerous."
Leningrad Zoo had three elephants during the Soviet era. The last one died in 1982.
News source: times.spb.ru


Print this news
---
City news archive for 16 December' 2005.
City news archive for December' 2005.
City news archive for 2005 year.