City news
Russia, OPEC to Meet Yearly
12.28.2005 14:49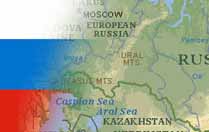 Russia and the Organization of the Petroleum Exporting Countries agreed Monday to hold annual ministerial meetings in an effort to improve oil market transparency as Russia assumes Group of 8 leadership.
The decision was reached during talks in Moscow between OPEC President Sheik Ahmed Fahd al Ahmed al Sabah and Russian Energy Minister Viktor B. Khristenko, ministry spokesman Vasily Osmakov said. Annual talks will cover energy policies, information exchange, investment in oil production and refining, as well as market developments, the ministry said.
Russia — the world's second-largest oil exporter, behind OPEC member Saudi Arabia — raised oil output to 9.63 million barrels a day last month, according to Industry and Energy Ministry data. Vladimir Putin, Russia's president, is using the country's position as a major oil producer to help secure a greater role in international politics.
"Putin's government sees a real opportunity to become a bridge between OPEC and the net consumers of the G-8," said Chris Weafer, chief strategist at Russia's Alfa-Bank. "This could [benefit] consumers by improving supply planning and price stability."
OPEC's 11 members, which supply about 40% of the world's oil, may cut production after March to sustain world oil prices in the face of a possible decline in demand, Ahmed Fahd said last week in Beijing. Demand for oil from OPEC in the second quarter may decline as much as 7% to 27.8 million barrels a day as a result of rising temperatures in the Northern Hemisphere, which reduce demand for heating oil, he said.
Russia has begun meeting with major oil consumers, such as the U.S., Japan, the European Union, India, China and South Korea, in advance of next year's G-8 summit in St. Petersburg, Russia, Khristenko said in remarks confirmed by Osmakov.
Russia has made energy security a priority for the G-8 next year and will encourage members to increase the use of exchanges for trading energy commodities and to diversify supply channels, Deputy Finance Minister Sergei Storchak told Bloomberg on Dec. 3. India, China and Brazil, which aren't members, will be invited to next year's G-8 meetings in Moscow and St. Petersburg, he said.
Ahmed Fahd, who is Kuwait's oil minister, also met Monday with Russian Foreign Minister Sergei V. Lavrov, Russian news agency Interfax said. Russia plans to lobby the G-8 countries on behalf of oil producers, Interfax said, citing Lavrov.
Oil prices are more dependent now on lack of refining capacity, for which consumers should take responsibility, than on supply and demand, Ahmed Fahd was reported as saying Monday.
Oil producers are capable of and willing to meet consumers' growing needs, Ahmed Fahd was quoted as saying.
Saudi Arabia's oil output was about 9.62 million barrels a day in November, according to Bloomberg News estimates.
News source: latimes.com


Print this news
---
City news archive for 28 December' 2005.
City news archive for December' 2005.
City news archive for 2005 year.