City news
Relief On the Way for Public Toilet Users
02.07.2007 15:43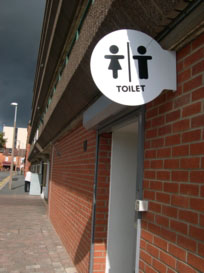 By Ali Nassor
Special to The St. Petersburg Times
St. Petersburg's water and sewage monopoly has taken up the challenge of meeting about half the city's demand for new, permanent public toilets within three months, Vodokanal announced.
The initial phase of a five-year plan to establish a network of 166 six-stall facilities in the city and surrounding towns marks a shift from the current non-hygienic, randomly located and poorly equipped mobile bio-toilets that are not connected to the city's sewage and drainage systems, Vodokanal said.
The first 77 units of the new-generation toilets, which are also designed to serve the disabled, are expected to be ready to use in time for the city's 304th anniversary celebrations on May 27.
"We will then have four years to think about, plan and build the other 89 advanced toilets," Aina Muktepavel, spokeswoman for Vodokanal said. "It's not a shift from our traditional profile as a sewage company and water supplier, but rather an attempt to control the prevailing 'toilet chaos' by getting [public toilets] connected to the drainage system," she said.
"In the long run we have to look civilized," she added.
She said the move is a response to Governor Valentina Matviyenko's call last year for a "long-term solution to a problem that had long stained our city and sometimes served as a repellent to foreign tourists."
Tour operators, however, believe Matviyenko's pronouncement was a little off-target.
"Tourists don't consider the shortage of public toilets as a big issue. The annual average of 3 million tourists to the city has been consistent in the last five years," said Tatyana Demeneva, spokeswoman for the St. Petersburg branch of the Russian Tourism Industry Union.
But she said: "Valentina Ivanovna (Matviyenko) was right that those shabby cabins near metro stations and the shortage of public toilets in general were spoiling the image of our beautiful city."
As a short-term solution, Governor Matviyenko had appealed to the owners of cafeterias and shopping centers to allow the public use of their toilets in exchange for City Hall's sympathy.
A prominent City Health official has hailed Vodokanal's scheme, saying that "although it is only a tip of the iceberg in keeping to the required standard of hygiene in the city, it is nevertheless a good omen."
"The current situation where a pedestrian is forced into looking for a nearby garbage dump to relieve himself is unbearable," said Vitaly Antonov, City Hall's chief mycologist, or fungus scientist. "On the other hand, I would have ordered the removal of all those filthy cabins near the metro stations, had I any authority… it's non-hygienic."
Meanwhile, an elderly female bio-toilet attendant near the Ploshchad Vosstaniya complained of having to serve a long line of customers, especially during rush hour.
"Sometimes people fight in their rush to the toilet," she said.
News source: times.spb.ru


Print this news
---
City news archive for 07 February' 2007.
City news archive for February' 2007.
City news archive for 2007 year.