City news
Surgutneftegaz Spends Big on New Capacity
02.09.2007 12:10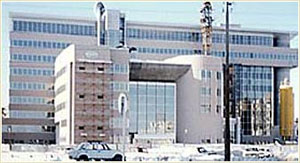 By Yekaterina Dranitsyna
Staff Writer
One of Russia's largest oil companies, Surgutneftegaz, will invest around $2 billion into a new oil processing complex in Leningrad Oblast, in an effort to increase production capacity.
Its subsidiary, Kirishinefteorgsintez, operates the only oil processing plant in the Northwest region. The new complex will be created on the base of the existing plant, Interfax reported Tuesday, and is due for completion in early 2009.
The total cost of the project increased from an initial $736 million, mainly because of the growing cost of metals, Interfax cited Vadim Somov, general director of Kirishinefteorgsintez, as saying at a St. Petersburg news conference on Tuesday.
Although the final cost of the project could become even higher, Somov said it would not affect the payback period, which is expected to be about seven years. Processing oil at the new complex will yield almost a third more gasoline, up from the current 54 percent to 85 percent, Somov said. The company has already spent about $800 million on hydrocracking equipment.
At the moment Kirishinefteorgsintez is preparing documents to prove the necessity of additional investment into catalytic cracking equipment. Somov expects this equipment to provide even better quality refining.
"We hope the construction to continue till 2012-2013 when we'll get a 98 percent yield," he said.
Somov said that the plant could also increase production capacity, though Surgutneftegaz has yet to make a related decision.
"We are considering increasing plant capacity to 24-25 million tons," Somov said. This goal could be reached by 2012, he indicated.
At the moment production capacity at Kirishinefteorgsintez is about 20 million tons a year with 60 percent of products exported.
Maxim Shein, head of the analytical department at Brokercreditservice brokerage, saw this huge investment as a logical step. "Some time ago Surgutneftegaz considered constructing a new oil processing plant in Leningrad Oblast from scratch. Now they have decided to build the new complex on top of the existing plant," Shein said.
"It's advantageous for the region since tax payments to the regional budget will increase. As far as I know, a new law is soon to be introduced stating that excises on oil products will be imposed not on distributors but on oil processing companies," he added.
Nevertheless, "as almost the only exporter of light oil products in Russia, Surgutneftegaz also benefits from the fact that the plant is located close to the sea port," Shein said.
He estimated Surgutneftegaz's economic performance to be about equal to that of LUKoil and TNK-BP, though shares of state-owned companies like Gazpromneft are traded at higher rates in the Russian Trading System.
News source: sptimes.ru


Print this news
---
City news archive for 09 February' 2007.
City news archive for February' 2007.
City news archive for 2007 year.