City news
Woke up this morning...
07.09.2007 15:32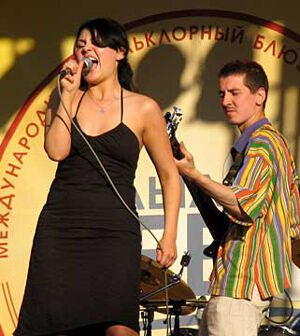 By Evgenia Ivanova
Staff Writer
The Fifth International Neva Delta Blues Festival takes place on Saturday.
Surprises, discoveries and many debuts are expected to take place in the historical setting of the Yusupov Garden this Saturday as the Fifth International Neva Delta Blues Festival comes to town to try and show that Russians can not only appreciate this musical genre, but also create it.
In Russia, although the country is far away from the United States, the birthplace of blues, the music is nevertheless popular. The reason behind this phenomenon is blues' universality, organizers of the festival say.
"Blues embraces everything that a Russian person craves for — love, sincerity and beauty," the festival's president and artistic director, Sergei "Steve" Nekrasov said, briefing journalists Monday.
"The best song is the one that comes out of your experience and your heart, because blues as well as folklore is a musical reflection of our culture — how we live, how we love, what we go through, what moves us, how we behave not for the cameras, or when other people are around but when we are left alone," Nekrasov added.
"Such maestros as Mike Naumenko [the St. Petersburg-based cult musician who performed in the 1980s] have already shown that indeed blues can be sung in Russian and sound as sincere, deep and natural as it does in when it is sung in English," Nekrasov said, adding that this year's festival will feature less cover versions and more original songs.
Despite calling itself an "international" event, the overwhelming majority of its participants come from Russia and include such local bands as Old Fashion, Jungle Jam, Blues Clan, Dyadya Sam and the Moscow-based Mishouris & His Swinging Orchestra, Rocking Dead, Doctor Agranovsky and Yury Koverkin. Roots, blues, folk and classical music are all part of the program.
The event will also feature Keith Dunn, the U.S.-based blues harp player, who, according to Nekrasaov is a well-known performer both in America and Europe.
"Dunn just released an absolutely extraordinary album, featuring no musicians apart from his voice, his harmonica, and his feet tapping," Nekrasov said. "This is very unusual and fascinating because one would think such limited mediums of expression [might be boring], but this album is actually very absorbing. You will see it and hear it for yourself at the festival," he said.
A performance of Gershwin's Rhapsody in Blue by the St. Petersburg State Academy Symphony Orchestra, conducted by Fabio Mastrangelo is said to provide a "fitting culmination" to the festival.
"Me and Sergei [Nekrasov] had the idea of combining blues and classical performers in one festival to get the music to more people and, most importantly to unite the musicians," Rinat Shakirov, a soloist who is planning to appear at the festival, said. "So the performance of the Gershwin's Rhapsody is in a way the beginning of this uniting process."
"This experiment is very interesting firstly because Fabio Mastrangelo is an unusually luminous and sunny conductor. I think everyone who comes to the festival will see how colorful the orchestra sounds in his hands," he said.
The musical heritage of Igor Stravinsky, Leonard Bernstein and the work of other composers who drew on blues and jazz culture will also be featured.
The Neva Delta Blues festival will take place from 4 p.m. to 11 p.m. on Saturday at the Yusupov Garden, 50A Sadovaya Ulitsa. For more details: Tel: 571 5058, 315 274, www.nevadelta.ru
News source: times.spb.ru


Print this news
---
City news archive for 09 July' 2007.
City news archive for July' 2007.
City news archive for 2007 year.