City news
Children's charity plans advanced support center
07.20.2007 12:11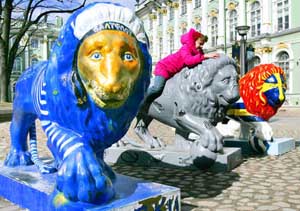 By Karina Papp
A roundtable held on July 12, organized by the St. Petersburg charity Parents Bridge, heard how the problem of Russia's abandoned children and the children's homes in which they often end up need a rethink.
Parents Bridge presented plans for a new center to help systematize its work with children up to seven years old. In cooperation with state bodies, abandoned or cruelly treated children would be transferred to this center after being identified by the department of social protection, a school, polyclinic, other charities or even neighbors. The state would retain administrative control of the center, since non-state organizations do not have access to the necessary documents.
But the assignment of social workers or "crisis managers" to work with families as a whole before children are abandoned is a key aim of Parents Bridge's approach.
"Social problems — unemployment, homelessness, lack of documents, alcoholism, drug addiction, family conflict — are not the only factors that contribute to the abandonment of children," Marina Levina, president of Parents Bridge, said. "On the basis of operational experience, we consider that any family, in which relations between children and parents break down, is in crisis."
Levina added that it is not only poor families that get into trouble.
"Our crisis service often receives calls from successful, well-off men who shout 'I hate my child and I don't know what to do!' Many people think that it is simply necessary to give material aid to a family, visit it once, and the problem will be solved," Levina said. "But after five years' work, we can assert that it is not so. The primary factors that influence family breakdown are psychological and spiritual. Such families should be divided not into social categories, but on the level of crisis."
The new center is fully planned but awaits financing. It is estimated that the center will cost 7.5 million rubles ($290,000) per year to run. By comparison, the care of 415 children in children's homes costs $830,000 a year. It is hoped that funds will be forthcoming in 2008, as Russia has declared this as the Year of The Family.
Legislative assembly deputy Pavel Soltun said: "We are able to realize this program only after the governor's understanding and acceptance of the appropriate decision by City Hall."
Presenting five-yearly results, Levina said that Parent's Bridge had been involved in 769 cases when there was a threat of child abandonment. In 287 of these cases, families themselves asked for help, while other cases were referred to Parents Bridge by maternity hospitals.
In 406 of the cases, children remained with their families, meaning that Parents' Bridge has had a success rate of 53 percent. Levina added that without the work of the charity during the past five years, this figure would represent four additional children's homes for St. Petersburg.
News source: times.spb.ru


Print this news
---
City news archive for 20 July' 2007.
City news archive for July' 2007.
City news archive for 2007 year.