City news
Housing Fee Hike Still 'Not Enough'
07.27.2007 17:20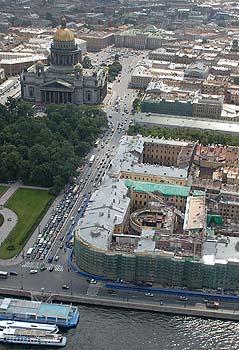 By Yekaterina Dranitsyna
Staff Writer
With fees for housing and communal services in St. Petersburg set to rise almost 14 percent, city officials have warned that sharper rises are needed to accomplish the necessary renovation of the city's housing stock.
From Aug. 1, the average monthly fee for housing services will increase from its current level of 10.98 rubles ($0.44) to 12.49 rubles ($0.5) per square meter – a rise of 13.75 percent.
The final fee will depend on the exact type of building, but wealthier residents will pay more than poorer — a result of possessing bigger flats, Yunis Lukmanov, chairman of the Committee for Housing and Communal services, claimed Wednesday at a press conference at Interfax news agency.
"We considered the increase in tariffs necessary because of the amount of repairs that are required. The legislative limit for any rise this year is 15 percent. We decided to increase the charge by 13.75 percent," Lukmanov said.
City Hall has reconsidered its way of calculating fees for rubbish collection and elevator maintenance.
"We examined the charges and compared them with the actual spending on technical servicing, repairs and maintenance and as a result suggested a rise," said Vadim Chekalin, head of the municipal services management department at the INJECON institute.
"The fees approved by City Hall do not exactly match our calculations. We suggested an increase of 30 percent on the fee for rubbish collection, but City Hall considered this unreasonable," Chekalin said.
From Aug. 1, the fee for rubbish collection will depend on apartment size instead of on the number of people living in it, while for the maintenance of elevators, which lacks 230 million rubles ($9 million) a year in adequate funding, the fee will depend on the type of the house, its total area and total number of elevators. Ground floor residents will also be obliged to pay for the maintenance of elevators.
Service companies, however, considered the rise in fees insufficient, with St. Petersburg still favorably placed compared to many other regions.
"Tariffs are relative figures. Unions of property owners could change tariffs regardless of these calculations," said Alexei Stepanenko, executive director of the association "Northwest Housing and Construction Complex."
It is mainly the owners of new properties who take this opportunity, while most citizens as well as tenants respect the figures given by City Hall. Stepanenko said association members would expect higher fees. Debt for housing and communal services in St. Petersburg is about one percent to two percent, Lukmanov said. However housing maintenance is still a problem — about half of the city's residential buildings require more or less serious repair work. A shortfall in financing over the last few years has resulted in a large number of dilapidated buildings that are expensive to service.
This year 13.9 billion rubles ($545 million) will be spent on restoration compared to the 6.9 billion rubles ($270.7 million) spent last year. In 2005 just 4.8 billion rubles were spent for this purpose and only 2.1 billion rubles in 2004.
News source: times.spb.ru


Print this news
---
City news archive for 27 July' 2007.
City news archive for July' 2007.
City news archive for 2007 year.