City news
In the spotlight
08.17.2007 16:48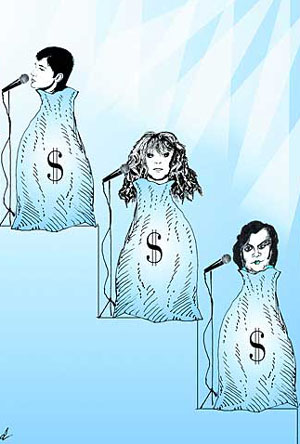 By Anna Malpas
Staff Writer
his month, Forbes magazine published its list of the 50 richest Russians in showbusiness and sport, which was a good excuse to put a photo of socialite and reality show presenter Ksenia Sobchak in a slinky dress on the cover. Even if she is only No. 49.
At first glance, the rating looked pretty revolutionary, putting such newcomers as the stars of TNT's Comedy Club standup show and 2006 Eurovision runner-up Dima Bilan at second and third place respectively, just below tennis mogul Maria Sharapova. But, as with other financial products, you had to read the small print.
In fact, the rating was compiled using a combination of estimated earnings, the stars' popularity in tabloids and magazines and the number of times people typed their names into a Russian search engine. Hence the country's principal blonde, Sobchak, reached seventh place in the rating, even though she was only 49th in the list of top-earning celebrities — which was actually headed by Sharapova, whose earnings evidently match her popularity, and a host of hockey players.
All the same, the list made interesting reading for its figures on stars' latest annual incomes — some of which were surprisingly modest — and the bald information about how they earn their money. Alla Pugachyova, the queen of Russian pop, made $3.5 million, putting her at 14th place, but she made it the hard way, performing in provincial cities all over the country. She even sang in Vorkuta, a coal-mining town beyond the Arctic Circle best known for its Gulag camp — in February. However much she earned for that, I doubt she thought it was enough.
This year has certainly been good to Bilan, who is at 12th place among the top earners with an income of $4.1 million. That might put Pugachyova's nose out of joint, not to mention Filipp Kirkorov's. Like Dima, he was a Eurovision contestant and has kept himself in the public eye pretty solidly since marrying and then divorcing Pugachyova, but his earnings only put him at 17th place. Sic transit gloria mundi, but on the bright side, the magazine writes that he's buying up apartments in Bulgaria, so he'll probably make a mint by selling them off to retired couples from Essex.
The success of Comedy Club, coming in at 11th place among the top earners — even if there are a lot of mouths to feed in the troupe of stand-up comedians — will also be a blow to Pugachyova, who is definitely not a fan of their brand of laddish humor. At last month's New Wave competition, a bizarre get-together for Russian pop singers that for some reason takes place in Latvia, the presenter was Comedy Club star Pavel Volya, who specializes in putting down celebrities with insulting barbs. He's used to causing offense, but he wasn't ready for some heckling from Pugachyova herself.
Pugachyova, a tough old bird, who recently said she will only retire when she can't wear a mini-skirt anymore (she's 58), didn't like Pasha Volya's tone when, announcing Kirkorov, he pretended never to have heard of the singer, Tvoi Den reported. Apparently, she caught Volya offstage and said, "And who are you, Pasha? You are just a gondon," the unpleasant word used for the probably equally unpleasant Soviet-era condom.
If Volya were a real stand-up comedian, he would probably have snapped back with a similarly foul-mouthed putdown, but he's used to polite audiences for the TNT show (they've paid $100 per ticket, so they'd better enjoy it) and tame celebrities in the front rows who know they'll look stupid if they answer back. So, Tvoi Den wrote, he collapsed into a pathetic heap, rather like the item Pugachyova mentioned. Still, I bet he thought of something brilliant in the shower next morning.
News source: times.spb.ru


Print this news
---
City news archive for 17 August' 2007.
City news archive for August' 2007.
City news archive for 2007 year.