City news
New Look is Chosen For Pulkovo Airport
09.18.2007 16:39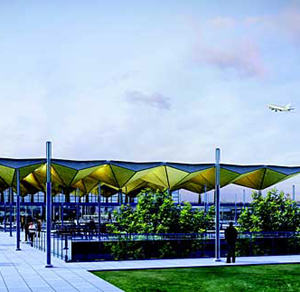 By Evgenia Ivanova
Staff Writer
Glass bridges and a wave-like roof to integrate the domestic and international flight terminals at Pulkovo airport are the hallmarks of a new design by British architectural firm Nicolas Grimshaw and Partners Limited that was revealed by the airport on Thursday.
The revamp is intended to improve the airport landside, airside and security zones, and to accommodate an ever-increasing numbers of passengers, German construction company Hochtief, who consulted Pulkovo on the matter, said in September last year.
"A connecting terminal which maintains the characteristic flair of the existing architecture will enable the airport of St. Petersburg-Pulkovo to solve its capacity problems quickly," Hochtief spokeswoman Donatella Gasser said in 2006 explaining the recommendation put forward by her company.
"This proposal complies with the client's explicit wish to incorporate Pulkovo's present characteristic silhouette, with its striking domed roof lights, into any future overall design. Combining essential new functionality with established architecture is also in accord with the St. Petersburg philosophy of preserving its historical heritage," Gasser said in a telephone interview to the St. Petersburg Times.
According to Grimshaw and Partners' representatives, giving a presentation of their proposals in St. Petersburg in May, it was the "majestic bridges and islands of St. Petersburg", that influenced their design.
The estimated cost of the revamp of 149 square-meter airport is $471 million, Interfax news agency reported on Thursday.
A thoroughly developed retail area and the possibility of preserving the historical building of Terminal I were the factors that persuaded Pulkovo to choose Grimshaw and Partners' plan, managers said.
"The project by the British architectural bureau offers the carefully considered methods of passenger service," the general director of Pulkovo Airport Andrei Murov was quoted in a Pulkovo press release as saying.
Terminal I, with its distinct domes that let in natural light, was designed by Alexander Zhuk in the 1970s and was considered an influential architectural landmark at the time.
"The fact that the process of building of the new terminal won't affect the functioning of Pulkovo I terminal that is to operate normally until the new building is constructed was also an important factor [in choosing the project]," Murov said.
According to Interfax, the renovated airport will represent an international hub, able to compete with the Moscow airports of Sheremetyevo and Domodedovo, the news agency quoted Governor Valentina Matviyenko as saying at Thursday's ceremony summarizing the results of the architectural competition.
News source: times.spb.ru


Print this news
---
City news archive for 18 September' 2007.
City news archive for September' 2007.
City news archive for 2007 year.