City news
Save the tiger
11.25.2010 05:56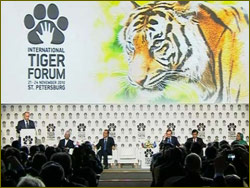 SAVING THE tiger – the four-legged, striped variety – is the order of the day. Although the Government may be busy burying the remains of the Celtic sub-species, conservation groups and 13 countries where tigers still exist in the wild have gathered in St Petersburg this week to launch a survival plan for the magnificent fast-disappearing panthera tigris of the felidae family. Conservationists warn that tiger numbers have dwindled worldwide to 3,200 from about 100,000 a century ago.
Delegates to the summit, convened by tiger enthusiasts Russian prime minister Vladimir Putin and the World Bank's Robert Zoellick, were told that the crucial Global Tiger Recovery Programme they have backed will cost some ˆ260 million over the next five years. It is a sum that will severely test the more impoverished countries like Laos, Bangladesh and Nepal, which will depend on sizeable as-yet largely uncommitted donations from the West if they are to play their part fully.
The summit, attended by among others, India, China – Premier Wen Jiabao also in person – Indonesia, Thailand and Russia, endorsed a commitment to double tiger numbers by 2022. This will be done through a mix of conservation programmes while a third of the cash will also be spent on co-operation across national boundaries to stop poaching and the illegal black market in tiger parts. Their pelts, bones and meat are prized in traditional Chinese medicine and across Asia, and – the conference was told – some 100 critically endangered Siberian tigers are killed annually to be smuggled to China.
Elsewhere ill-equipped anti-poaching teams are reported to be fighting increasingly well-armed criminal gangs. Vivek Menon, South Asia director for the International Fund for Animal Welfare, told journalists a shortage of resources meant Indian rangers are often sent out with just three bullets. If they get into a gunbattle the poachers mow them down with Kalashnikov assault rifles. "We lose 50 rangers a year," he said.
Conservation strategies like the "source site" approach recommended by the Wildlife Conservation Society will also be important. Countries with wild tigers agree to identify and protect sites with enough breeding females and room for an expanding tiger population. Local communities are given incentives to help with conservation. Without such measures, and cash support from the international community, tigers will be extinct in the wild within 20 years.
News source: Irishtimes.com


Print this news
---
City news archive for 25 November' 2010.
City news archive for November' 2010.
City news archive for 2010 year.