Printed from: http://petersburgcity.com/news/city/2010/12/07/Yota_space_071210/
City news, 07.12.2010 20:35
Yota Space Festival Starts in Saint Petersburg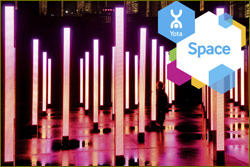 The first International festival of audiovisual arts Yota Space will be held in St. Petersburg from the 5th to 19th December.
Yota Space is an exhibition where all the presented exhibits can be and should be touched, examined and interacted with.
This project unique not only for Petersburg, but also for entire Russia will present interactive installations, as well as audiovisual works by leading world professionals.
The exhibition program of Yota Space will bring together world leaders in production of audiovisual content, well-known modern artists, authors of the last trends and pioneers in various currents of new media art
News source: Guarant-InfoCentre