Printed from: http://petersburgcity.com/news/city/2013/01/16/SB20_14_160113/
City news, 16.01.2013 18:54
St. Petersburg to host SB20 World Championships 2014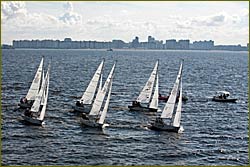 The SB20 World Championships 2014 will take place in St. Petersburg, Russia at Yacht Club Hercules, pitting in a strong fleet of international sailors against homegrown talents throughout the weeklong competition from September 5 to 11.
The Russian SB20 fleet has seen significant growth since 2009 and the Russian teams are highly competitive on the international circuit. Oleg Zherebtsov, Chairman of the SB20 class in Russia won the 2012 SB20 European Championship in Medemblik and was placed third (on equal points to the Champion) at the recent 2012 UON SB20 World Championships in Hamilton Island, Australia.
Oleg has been the driving force behind the growth of the SB20 Class in Russia, and was delighted that the 2014 World Championships will take place in St. Petersburg. Today there are 23 boats in Russia and there is strong growth forecast for the coming years.
The Yacht Club Hercules organised the finish of the 2008-09 Volvo Ocean Race and has experience in hosting European championships. Hercules boasts a highly qualified technical staff and secretariat. Further news and developments about Hercules can be followed on their website: www.port-hercules.com.
The SB20 Class received four high quality bids from yacht clubs in sailing hot spots around the world to host the 2014 World Championships. 'Itís been a difficult task separating these bids from each other,' explained Ed Russo, SB20 World Council President, 'And we are extremely appreciative of the effort and interest from these competing Clubs.'
Ahead of the 2014 World Championships in St. Petersburg, the SB20 Fleet will contest their 2013 World Championships in Hyeres, France from September seventh to the 13th where a fleet of over 100 SB20 boats is expected.
The SB20 class provides low cost, high intensity, big fleet racing and attracts some of the most recognisable names in sailing today.
News source: TetraMedia Pty. Ltd