Printed from: http://petersburgcity.com/news/city/2013/02/28/World_Cup_Arena_280213/
City news, 28.02.2013 14:45
St. Petersburg Governor to Monitor World Cup Arena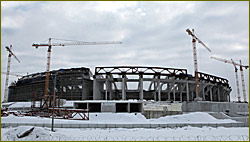 The governor of St. Petersburg has ordered weekly updates from the build site of Zenit's new soccer stadium in order to complete the scandal-hit project without any more setbacks.
The 69,000-seater arena, which will host a semifinal of the 2018 World Cup, is officially set to open next year, although Zenit's general director Maxim Mitrofanov told R-Sport last month that "there is not a single indication that the stadium will be built in the specified time."
But in a bid to see the promises through, St. Petersburg governor Georgy Poltavchenko has ordered a construction official to report back from the site every week, his office said in a statement Thursday.
Russian prosecutors have opened a fraud investigation into the project after costs rose more than three-fold to $1.3 billion.
According the country's Investigative Committee, the cost of construction works was overstated by more than $16.5 million.
The arena was originally due to open in 2008 and could surpass Londonís Wembley for the title of the most expensive soccer stadium in history.
Prime Minister Dmitry Medvedev said in September the drawn-out construction "looks disgraceful," and Poltavchenko appealed a month later for soccer fans to help build the stadium as volunteers, though he later backtracked on the comments.
The stadium was designed to look like a spaceship by Japanese architect Kisho Kurosawa, who died in 2007.
News source: RIA Novosti