Printed from: http://petersburgcity.com/news/city/2013/05/30/Union_State_Rapota_300513/
City news, 30.05.2013 18:16
Rapota to pay working visit to St. Petersburg 2-4 June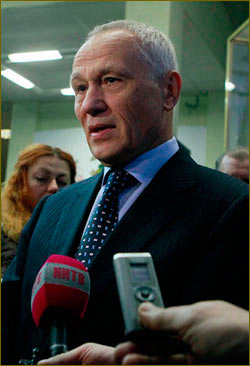 State Secretary of the Union State Grigory Rapota will pay a working visit to St. Petersburg, Russia, on 2-4 June.
Grigory Rapota will hold working meetings with Governor of St. Petersburg Georgy Poltavchenko and Russian Presidential Plenipotentiary Envoy to the Northwestern Federal District Vladimir Bulavin. Grigory Rapota will visit the Avangard company that is the main executor of the Union State program "The development of the new generation of microsystems engineering and unified integrated dual-purpose systems based on microsystems engineering" (the Microsystems Engineering program). He will also visit the Svetlana company which is the main executor of the Union State program "Promising semiconducting heterostructures and equipment based on these structures" (the Pramen program). Another point on the agenda is Grigory Rapota's visit to the Almazov Federal Heart, Blood and Endocrinology Center which is the main executor of the Union States program "The development of new methods and technologies of post-treatment therapy and treatment of pathologies of bad tissues and organs using stem cells" (the Stem Cells program).
During the working meetings Grigory Rapota will discuss the prospects of economic integration and the development of cooperation between administrative-territorial entities, companies and organizations of the Northwestern Federal District and St. Petersburg and Belarusian oblasts, companies and organizations within the Union State.
Grigory Rapota is set to pay a working visit to the Kompensator company and St. Petersburg Tractor Plant where the prospects of the companies' cooperation with Belarus will be reviewed, too.
News source: BELTA