Printed from: http://petersburgcity.com/news/city/2014/05/07/festival_ledokolov_070514/
City news, 07.05.2014 14:35
The first Festival was held in St. Petersburg ice breakers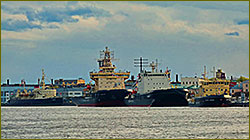 The ship provided the North West Branch of the Rosmorporta, and they all provide the movement of ships in the Gulf of Finland in the winter.
in the 150-year anniversary of the icebreaking operations in St. Petersburg for the first Festival of ice breakers Five active icebreakers were moored on the embankment of Lieutenant Schmidt and the promenade des Anglais. The Festival meets all existing types of ice breakers is a great lajnernye of the Court: "Moscow" and "St. Petersburg", subsidiary "From" and two Ivan Kruzenshtern "port" and "Constantine" Zarubin.
Ice breakers provided the North West Branch of the Rosmorporta, and they are all valid, and vessel traffic in the Gulf of Finland in the winter. The Festival was opened by a member of The Cong regation of St. Petersburg, Vladimir Hodorev.
-This event puts the Foundation of the tradition. Thanks to the Festival, we will celebrate our heritage and our successes. Because we have the most powerful icebreaker fleet. We are starting new traditions of celebration in the city of sea glory, said Vladimir Hodorev.
Advanced icebreakers one output, which is 6000 kW, will light up a small city. Their technical equipment adapted to any situation-from standard to emergency, and allows you to pump out the water, extinguish fires, oil spills put fences and take on board the search-and-rescue aircraft.
For each linear icebreaker docked one port. The ship goes to sea for a month. Each port has its own specifics, and during the absence of the watch is Another icebreaker. The thickness of the ice, which is able to penetrate the icebreaker, reaches 50 centimeters.
Festival promise to make a good tradition of sea glory of St. Petersburg every year to complemen t the new courts. It is in the city of Kronstadt Leningrad region 150 years ago Mikhail Britnev shipbuilder rebuilt the nose of one of his ships, the ship breaking the ice.
News source: reflexion-shades.blogspot.ru