Printed from: http://petersburgcity.com/news/city/2015/05/14/SPB_Hoshimin_140515/
City news, 14.05.2015 09:44
St. Petersburg and Ho Chi Minh strengthen cooperation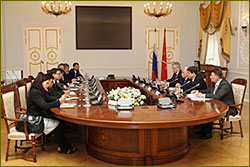 On May 12 in Smolny the governor of St. Petersburg Georgy Poltavchenko met the chairman of the National Committee of Ho Chi Minh Le Hoang Kuang and delegation of Ho Chi Minh – one of the largest cities of Vietnam, important cultural and scientific centre of the country.
The chairman of the Committee on external relations St. Petersburg Evgeny Grigoriev took part in the conversation. Participants of a meeting, discussed prospects of cooperation of St. Petersburg and Ho Chi Minh in humanitarian and trade and economic areas.
As Georgy Poltavchenko noted, St. Petersburg and Ho Chi Minh from Soviet period connect the old twinning relations. In 2005 the new agreement on friendship and cooperation between our cities was signed. The governor emphasized that St. Petersburg had been always famous for the school of a vyetnamistika. 5 years in St. Petersburg on the basis of East faculty of St. Petersburg State University the unique project – Ho Chi Minh's Institute is realized. On May 16 at the institute the international scientific conference devoted to Ho Chi Minh's 125 anniversary will take place.
Among the most perspective directions of expansion of partner communications Georgy Poltavchenko called pharmaceutical and shipbuilding branches, medicine, tourism, hotel business, trade.
Le Hoang Kuang noted that cooperation with St. Petersburg – the important direction in the activity of the management of Ho Chi Minh. This city always was and remains the centre of studying of Russian. The chairman of the National Committee of Ho Chi Minh noted that experience of St. Petersburg, including in such branch as culture and education is very interesting to Vietnam. Kuang suggested to expand with Le Hoang a youth and student exchange, and also to organize deliveries to St. Petersburg of goods of light industry from Vietnam.
The governor emphasized that now it is necessary to study specific projects and offers on all directions. For this purpose in St. Petersburg and Ho Chi Minh the working groups will be created.
News source: Administration of St. Petersburg