Printed from: http://petersburgcity.com/news/city/2015/05/22/booksalon_15_220515/
City news, 22.05.2015 10:08
IX international trade fair «The St. Petersburg International Book Salon — 2014»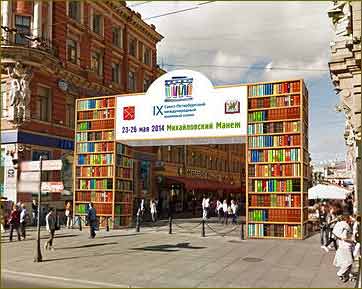 An event which cannot be passed!
Entrance on an exhibition and all actions of Book Salon 2014 for all FREE!
(Except for the meropriyatiiya which are specially stipulated and noted in the program)
The St. Petersburg international book salon, the largest book exhibition in the Northwest, in 2014 will be held under the motto "For the first time!".
For the first time! The book salon passes in the historic centre of the city – in the Mikhaylovsky arena (Manezhnaya Square, the house 2).
For the first time! The book salon passes from May 23 to May 26, during the celebration of the City Day, during a season of "White nights".
For the first time! The book salon, besides a traditional exhibition, will include the interactive book festival "St. Petersburg — the Open Book".
Actions of Book salon – only more than 200 – will take place on Small Garden, Italian, Karavanny, Maple streets, Manezhnaya Square.
For the first time! Organizers count that Book salon and the actions which are taking place in its framework will visit from 150 to 200 thousand citizens and city visitors.
On Book salon there will arrive a large number of the Russian and foreign writers – people who through meanings, the ideas, images put in works change our world. Among guests of an exhibition - Mikhail Veller, Alexander and Nichole Gratovski, Aude de Querroz, Costas Mavrakis, Boris Le Jeune, Andrey Kivinov, Aleksandra Marinina, Oleh Roy, Andrey Maximov, Lev Lurye, Maria Semyonova, Denis Dragunsky and many others.
News source: spbbooksalon.ru