Printed from: http://petersburgcity.com/news/city/2015/12/15/kult-forum_151215/
City news, 15.12.2015 17:51
IV St. Petersburg International Cultural Forum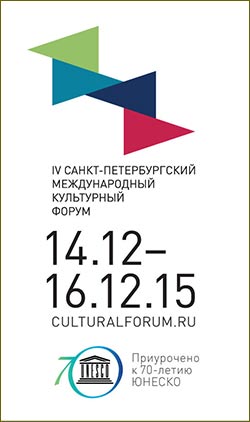 St. Petersburg International Cultural Forum - a unique place, where every year specialists from the sphere of culture, politics, public authorities and businesses meet each other. The most pressing issues concerning the development of the modern world and Russian cultural life are being discussed here. Forum events allow experts, investors and potential partners interested in the implementation of federal and regional projects, to have an open dialogue and exchange of experience. At the same time, the Forum helps ordinary citizens of St. Petersburg and visitors to become closer acquainted with specific areas of culture, to gain new knowledge and an unforgettable experience.

The IV St. Petersburg International Cultural Forum will be held on December 14-16, 2015, and will be dedicated to the 70th anniversary of UNESCO.

Event organizers:
- Government of the Russian Federation
- Government of St. Petersburg
- Supported by the Ministry of Culture of the Russian Federation and the Ministry of Foreign Affairs of the Russian Federation.
News source: IV St. Petersburg International Cultural Forum