Printed from: http://petersburgcity.com/news/culture/2002/06/24/news2969/
Culture news, 24.06.2002 20:43
Stained Glass Windows from Marien Kirche Go Back Home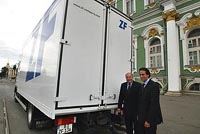 Exchange of cultural values, illegally transferred during the years of the World War II, continues: a truck with stained glass windows of Marien Kirche has left the Hermitage.

Those unique medieval stained glass windows were brought from Germany in 1946 by Soviet people and were transferred to the Hermitage for storage.

On April 2002, the Federation Council passed a law about transfer of the stained glass to Germany.