Culture news
Russian-Norway Exhibition
04.09.2005 17:12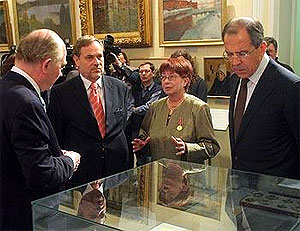 The exhibition on Russian-Norway relations opens today in St. Petersburg in the Russian Ethnographic Museum Wednesday.
Russian Foreign Minister Sergei Lavrov and Norwegian Foreign Minister Jan Petersen plan to attend the opening ceremonies, Norway's Consul General in St. Petersburg Otto Mamelund said.
This year the exhibition, "Russia-Norway. Through Centuries and Borders", is dedicated to the 100th anniversary of the establishment of diplomatic relations between the two countries. In the summer of 2004, the exhibition was shown in the Norwegian Folk Museum in Oslo where about a quarter of a million people attended it.
"It is ideal that in 2005, the exhibition will be shown in the Northern capital of Russia. The first telegram recognizing the full independence of Norway arrived into Oslo in 1905 from St. Petersburg, the then-capital of Russia," Mamelund said.
The Russia-Norway exhibition covers the development of bilateral relations between the two countries during a thousand-year period, beginning with the first mentions in the chronicles and ending with the latest events of our time.
Mamelund said the two countries have always enjoyed "ancient" close ties and good relations.
"For many exhibition visitors, it will perhaps be a surprise," he said.
According to Mamelund, the two countries' peoples are so close that during the 19th century, a Russian-Norwegian language existed. The last person, who understood and remembered it was an elderly woman in a village near Arkhangelsk. She died at the beginning of 1990s.
"This is a little known fact, but we did have a mixed language with simplified grammar and a common vocabulary," Mamelund said.
Exhibition visitors will also learn about Russian-Norwegian cultural projects, on which work lasted for more than six years. More than 700 displays at the exhibition belong to more than 100 Russian and Norwegian museums and private collectors.
Displays include Slavic and Norwegian decorations and arms, stones with Runic inscriptions on them, birch bark letters, sculptures of St. Olaf and ancient Russian icons. Visitors will have the opportunity to learn about trade between the two countries and with the Saami, an ancient people, living on both sides of the Russian-Norwegian border.
The displays also include correspondence between the Danish King Haaken VII and the last Russian Emperor Nicolas II.
A special section of the exhibition is dedicated to Alexandra Kollontai, who was the Soviet ambassador to Norway. Materials on display include wooden toys from Soviet POW camps, made by prisoners in exchange for bread.
"Our task was not only to show the contacts between well-known people, for example the correspondence between Tchaikovsky and Grieg, but also between ordinary people," director of the Russian Ethnographic Museum Vladimir Grusman said.
The exhibition is expected to last until July 2005.
News source: www.en.rian.ru


Print this news
---
Culture news archive for 09 April' 2005.
Culture news archive for April' 2005.
Culture news archive for 2005 year.